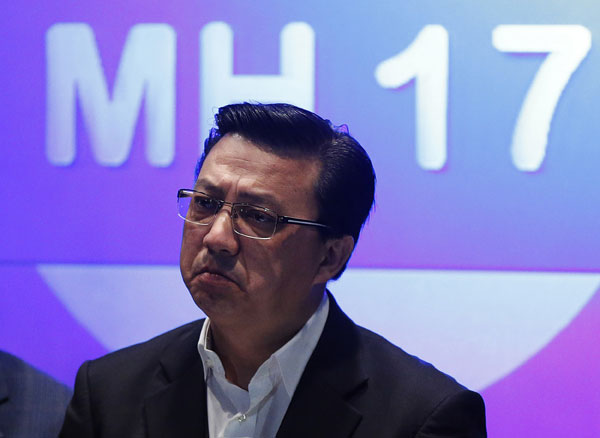 Malaysian Transport Minister Liow Tiong Lai speaks during a news conference at a hotel near Kuala Lumpur International Airport in Sepang July 18, 2014. [Photo/Agencies]
BEIJING - Malaysia will send a team to the Maldives to determine whether the debris spotted near the Indian Ocean island came from the missing Malaysia Airlines MH370, Transport Minister Liow Tiong Lai said Monday.
The minister also said it was premature to connect the unidentified debris to the doomed plane, which disappeared on March 8, 2014, with 239 people aboard flying from Kuala Lumpur to Beijing.
"At this juncture, no verification of the debris has taken place," Liow said.
Local media reported that a piece of object, probably a plane part which is five to seven inches long, was discovered on a private beach in the Maldives in May.
The Maldives has joined a regional search as local police have been responding to the sightings.
Meanwhile, the search continues in the French Indian Ocean island of La Reunion after a wing component called a flaperon was spotted in the eastern part of the French overseas island and was confirmed by Malaysia as part of the missing plane later.
However, no clues to more debris have been found since Friday's massive hunt, La Reunion authorities confirmed in a statement Monday.
The statement said the tridimensional search on the island, in which air, pedestrian and maritime forces were deployed, will last until this Friday.
Meanwhile, the Indian Ocean nation of Mauritius, which is located 190 kilometers northeast of La Reunion, pledged to continue search operations in its waters, Deputy Prime Minister Xavier-Luc Duval told Xinhua Monday.
Mauritius joined the search one week ago, deploying coastguard ships and asking fishermen to report any possible debris.
However, 17 months on since the plane went missing, search operations face mounting challenges in spite of the evidence that has emerged.
The wing part discovered on La Reunion offered some hope to locate MH370's final resting place. However, scientists could not narrow down the plane's crash site based on a single floating object via reverse calculation.
Only by finding at least 30 to 50 pieces of debris would it be possible to retrace where the plane hit the water, said Jian Jun, a Chinese oceanography expert from Dalian Maritime University.