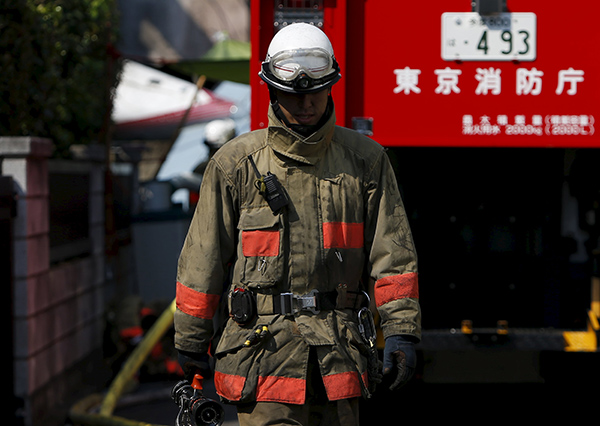 A firefighter walks out from the site where a light plane went down in a residential area and burst into flames, in Chofu, outskirt of Tokyo, July 26, 2015. Three people were killed when a small airplane crashed into a residential area of the Japanese capital, Tokyo, on Sunday, public broadcaster NHK reported, setting fire to houses and cars. [Photo/Agencies]
Minako Akiyama, a resident in the neighborhood, said that after the crash, she heard the loud sound of something being torn. "I ran upstairs, then I saw the house just over there on fire, with a tail of the plane sticking out of it," she said.
The PA-46 Mirage plane, produced by Piper Aircraft, was flying to Izu Oshima Island, about 100 kilometers (60 miles) south of Tokyo in the Pacific Ocean, according to the Chofu Airport. The airport was opened in 1941 for Japan's Imperial Army during World War II and is now administered by the Tokyo metropolitan government.
The plane that crashed Sunday also experienced an accident in October 2004, when it crashed into a field in the northern Japanese city of Sapporo in a failed takeoff, according to a transport ministry report. Nobody was injured in that accident, which the ministry attributed to operational error. The aircraft had since been repaired.