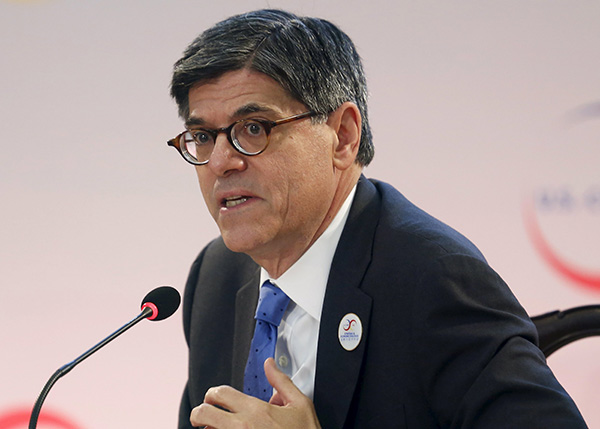 US Treasury Secretary Jack Lew speaks at US-China Strategic and Economic Dialogue (S&ED) at the State Department in Washington June 23, 2015. [Photo/Agencies]
WASHINGTON - US Treasury Secretary Jack Lew spoke on Monday with Greece's prime minister and finance minister and said Washington looked forward to Athens and other parties resuming conversations toward resolving the Greek situation, a Treasury spokeswoman said.
Lew voiced hope such an outcome "will allow Greece to make difficult but necessary fiscal and structural reforms, return to growth, and achieve debt sustainability within the Eurozone," the Treasury statement said, adding Lew offered to stay in close touch in coming days.
The call with Prime Minister Alexis Tsipras and the new finance chief, Euclid Tsakalotos, came a day after Greeks voted overwhelmingly in a referendum to reject more austerity.
German Chancellor Angela Merkel and French President Francois Hollande, the euro zone's most powerful leaders, said Athens must move quickly if it wants to secure a cash-for-reform deal with creditors and avoid crashing out of the single currency.
President Barack Obama spoke with Hollande on Monday about the Greek situation and they agreed on the importance of finding a path for Greece to resume reforms and return to growth within the euro zone, the White House said.
The Obama administration has downplayed the damage a Greek meltdown could have on the US economy.
US banks were on the hook for just $12.7 billion in Greek debt at the end of 2014, according to the Bank of International Settlements. That is tiny relative to America's giant banking sector and $17 trillion economy.
Greece's economy is also very small and the country buys just 0.05 percent of US exports.
Senior US Treasury officials, speaking to reporters last week on condition of anonymity, said one risk was that the Greek situation would hit the economy in Europe, which is a major US trading partner.
Greece makes up about 1 percent of the European Union's economy, but a banking crisis or investor doubts on the viability of the European project might weigh on the region in unforeseen ways.
Treasury officials have stressed to their European counterparts in recent weeks the importance of maintaining financial market stability.