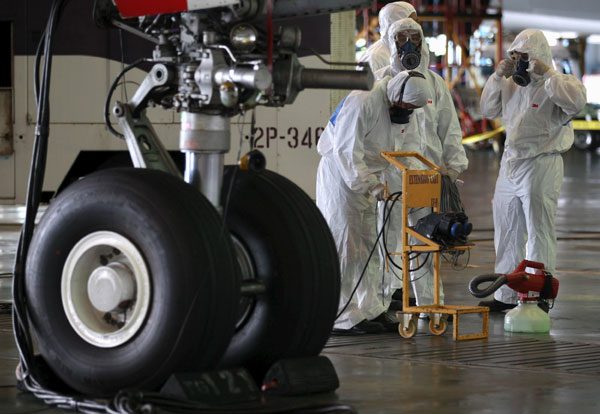 Crew members of Thai Airways prepare to disinfect the cabin of an aircraft of the national carrier at Bangkok's Suvarnabhumi International Airport, Thailand, June 18, 2015. Thai Airways implemented the preventive measures to tackle Middle East Respitory Syndrome (MERS) on Thursday. Thai Airways said they have step up the prevention measures by spraying an anti-bacteria solution to all the return flight from Dubai and South Korea. [Photo/Agencies]
BANGKOK - Thailand's public health ministry on Thursday confirmed the country's first case of the Middle East Respiratory Syndrome (MERS).
Lab results have confirmed the virus contracted by a 75-year- old man who came from a Middle East country to Thailand to have his heart condition treated, Public Health Minister Rajata Rajatanavin said.
The infectee came from Oman, according to deputy government spokesperson Sansern Kaewkamnerd.
The man, who is now being treated at an infectious diseases institute in central Nonthaburi province, is in stable condition, the ministry said.
Another 59 people who had contact with the infectee are also being monitored, including three of the patient's family members who traveled to Thailand with him, several from the hotel where he used to stay, hospital workers, as well as those who sat near him on the plane, the minister said.
After the disclosure of the case, Thai Prime Minister Prayut Chan-o-cha urged the public not to panic and follow advice from health authorities, Sansern said.
The public health ministry is following all procedures in accordance with international standards to control the virus, Sansern stressed.