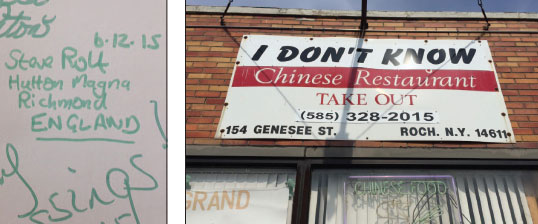 Well-wishers from England signed a board at the I Don't Know restaurant in Rochester, New York, whose peculiar name has made it a media sensation. [Provided to China Daily]
A quirky name for a Chinese restaurant in Rochester, New York, has generated the best kind of advertising: free.
The I Don't Know Chinese Restaurant got its name from a common refrain by owner Jessie (Shao) Dong's three children when she would ask them what they wanted for dinner. That was also the response when they discussed what the name of the restaurant should be.
The cuteness of the name seemed to strike a pleasant nerve, basically around the world, with reporters calling I Don't Know on Genesee Street in the city of about 211,000 near Lake Ontario (which incidentally is New York state's third largest city after New York City and Buffalo) from as far away as London and Canada. (OK, Canada isn't that far from western New York.)
Rochester also has a sister city in China: Xianyang, a prefecture level city in Shaanxi province with a population of more than 5 million that was the capital of China during the Qin Dynasty (221 to 206 BC).
Anyway, now Rochester, hometown of Eastman Kodak and the birthplace of Xerox, Western Union, Bausch & Lomb and the Gannett newspaper chain, can add I Don't Know Chinese Restaurant to its list of famous institutions.
This is one of those stories that one media outlet covers and then the rest of the country runs with it. Now I am, too.
Here are some of the news organizations that either published The Associated Press story, which picked up on what appeared to be the original story by Mary Chao in The Rochester Democrat and Chronicle, or did their own take on what is basically a takeout joint with a couple of tables:
The New York Times, The Huffington Post, abcnews.com, cbsnews.com, nbcnews.com, cnbc.com, foxnews.com, the New York Post, the Houston Chronicle, the Philadelphia Inquirer, the Philadelphia Daily News, the Seattle Post-Intelligencer, US News and World Report, the Contra Costa Times in California, the Florida Times-Union in Jacksonville, the York (Pennsylvania) Daily Record, WTVY in Dothan, Alabama, KDWN in Las Vegas, KTTC in Minnesota, the Daily Mail of London (which used a double byline of AP and "dailymail.com reporter") and many more.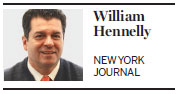 I Don't Know, which opened about two months ago, doesn't appear to have a website. But who needs one with this fame.
And so far I Don't Know has only one Yelp review, by Tim S of Spencerport, New York: "Amazing food! You can tell this food is all made in house and is some of the best Chinese food ever! The owner is passionate about serving quality food, and it shows. I recommend the veggie egg rolls."
Yelp reviews probably aren't much of a concern when you have achieved Internet immortality.
Dong, a native of Guangdong province, politely wrote back to China Daily on Wednesday: "I am sorry for not being able to respond promptly to you, because I am now on vacation in Canada. The restaurant (is making) great progress since the newspapers published. Thank you for all you have done."
Contact the writer at williamhennelly@chinadailyusa.com