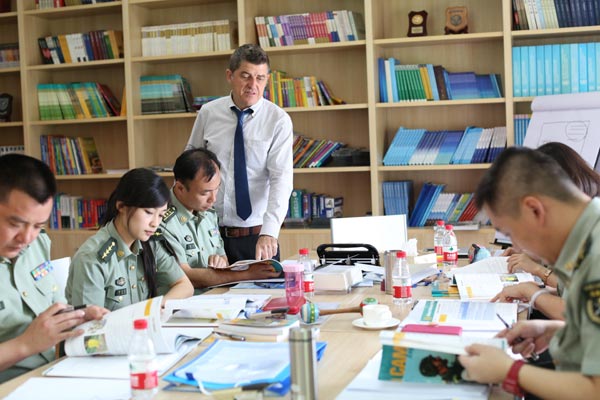 Chinese peacekeepers attend an English training program, co-organized by China's Peacekeeping Affairs Office and the UK's Ministry of Defense, in Beijing on Wednesday. Wang Jing / China Daily
China's peacekeepers, the largest contingent from the permanent UN Security Council members, began a landmark training program in Beijing on Wednesday to better protect women and children in countries torn apart by conflict.
China's Peacekeeping Affairs Office and UN Women, a global organization dedicated to gender equality and the empowerment of women, are co-hosting the three-day program. Ten of the 35 trainees, mostly frontline peacekeepers and commanders, are women.
Women comprise 49 percent of refugees worldwide, and often face greater risks than men. "UN Women has made great contributions to the protection of civilians via peacekeeping cooperation, notably in addressing sexual exploitation and abuse," said Zhang Li, vice-director of the Peacekeeping Affairs Office.
"Working with UN Women through this course, we can draw upon their experience and expertise to improve the protection of civilians by Chinese peacekeepers."
Julie Broussard, country program manager from the UN Women China Office who helped make the collaboration possible, said she started to reach out to Chinese peacekeepers more than a year ago.
"China is the only country among the permanent five members of the UN Security Council that puts more and more effort into peacekeeping missions. I hope this collaboration will not be the end, but the first of more to come," Broussard said.
Zhang Xiaoan, former vice-president of the UN Association of China, said the cooperation will help peacekeeping forces solve practical problems on the front line.
"The protection of women and children may seem just like any other social problem, like poverty, in a peaceful country. But in a war zone, it means lives. Its significance surpasses everything else," Zhang said.
"With UN Women's expertise in women-related issues around the globe, especially in conflict-torn regions, China's peacekeepers will surely benefit from the pragmatic training to better protect women and children from sexual abuse and violence in different cultures."
China is also working for the first time with the UK's Ministry of Defense to start a monthlong English training program for Chinese peacekeepers, which also started on Wednesday. Zhou Zhe, director of the Peacekeeping Center, admitted that poor English skills have been a hindrance for Chinese peacekeepers.
In 2015, China sent 2,926 peacekeepers worldwide, with its total contribution to peacekeeping missions topping $526 million. This year marks the 25th anniversary since China first joined the mission in 1990.
chenmengwei@chinadaily.com.cn