When China's Central Military Commission Vice-Chairman Fan Changlong led a high-level delegation to the United States last week, the news media mostly focused their attention on the thorny issues of the South China Sea and cyber security.
These issues are nothing new, but they have escalated recently as the US called on China to halt its land reclamation on the Nansha Islands in the South China Sea.
US Secretary of Defense Ash Carter reiterated that call to China and other island claimants in a press release issued right after his nearly four-hour meeting with Fan at the Pentagon on Thursday.
The Chinese side has tried their best to explain the situation and voice their stance. The construction in the Nansha Islands - or Spratly Islands, as other nations call them - is totally on China's sovereign territory. It is mainly aimed at improving the living and working conditions there. Some military facilities are for the sake of defending China's sovereignty.
Fan has reassured that freedom of navigation will not be threatened, not just to the US but other nations as well. The top-ranking Chinese general has asked the US side to reduce its military activities in the South China Sea, both in the air and on the water.
For years China has protested the US close-in military surveillance, something that the US Assistant Secretary of State for East Asian and Pacific Affairs Danny Russel said in late May the US would keep doing.
Neither side has said that they have gotten any closer on the issue, but it seems clear that they had a deep exchange of views during Fan's visit.
One promising sign is that both expressed the resolve to reach an agreement on the air-to-air annex to the code of conduct regarding military encounters by the time President Xi Jinping visits the US in September.
While the Chinese and US militaries don't want to go to war with each other, there have been serious concerns over the years in both countries about the potential for a crisis caused by accidents brought about through misunderstanding or miscalculation. The latest worrisome case came in late May when a US spy plane, carrying a CNN crew, swooped over Chinese construction sites on Nansha Islands in the South China Sea. The plane left after receiving warnings eight times from the Chinese side.
Most people still remember the collision of US EP-3 spy plane with a Chinese fighter jet off China's Hainan Islands in 2001, resulting in a huge setback in bilateral relations.
On cyber security, China has called it irresponsible for the US to accuse China of hacking into the White House Office of Personnel Management before any serious investigation. Fan and Guan Youfei, his spokesman during the trip, also expressed continued anger over the US Justice Department's indictment last year of five People's Liberation Army officers on cyber espionage charges.
The Chinese are still disappointed at the US' continued arms sales to Taiwan, as the cross-Strait relationship is the best it's been in decades. They also hope some legal hurdles for bilateral military-to-military exchanges can be eliminated, referring mostly to the US National Defense Authorization Act, which restricts such exchanges.
While these issues may take years, if not decades, to be resolved, both sides have also been optimistic by looking at the bright side.
"Overall, consensus outweighs differences, common interests dwarf differences, the desire for cooperation is growing," Guan Youfei, director of the Foreign Affairs Office of the Ministry of National Defense, told the press at the end of Fan's trip.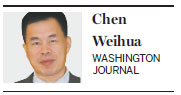 "The positive elements eclipse negative factors and there is huge potential for bilateral military-to-military cooperation," Guan said.
"Both sides want to boost mutual trust, deepen cooperation, properly manage and control differences and avoid misunderstanding and miscalculation," he said.
Guan's words echoed what Raymond Odierno, chief of staff of the US Army, said when he and Fan witnessed the signing of the China-US Army-to-Army Dialogue Mechanism at the National Defense University Friday afternoon.
"Although there are times our nations have differences, it's important that we come together and continue dialogue between our nations, and specially our armies," Odierno said.
A Pentagon press release last week said during the meeting with Fan, Carter stressed his commitment to developing a sustained and substantive US-China military-to-military relationship based on a shared desire to deepen practical, concrete cooperation in areas of mutual interest, including humanitarian assistance and disaster response, peacekeeping, military medicine, counter-piracy and constructive management of differences.
Experts, such as Cheng Li, director of the John L. Thornton China Center of Brookings Institution, have seen Fan's trip at a time of tensions as a positive sign that both sides are willing to engage despite differences.
Contact the writer at chenweihua@chinadailyusa.com