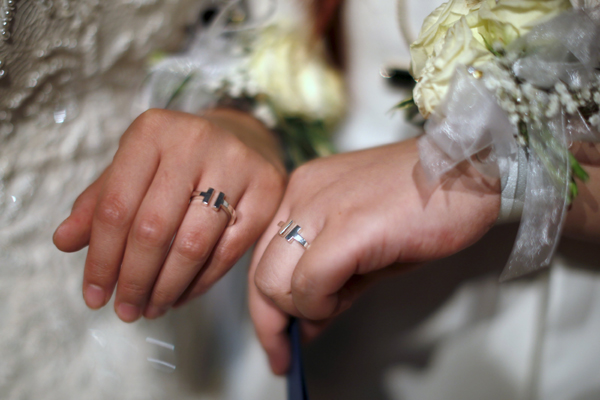 Xu Na (L) and her new wife Xue Mengyao display their rings after getting married at a group wedding for seven same-sex couples from China, in West Hollywood, California, United States, June 9, 2015. [Photo/Agencies]
WEST HOLLYWOOD - Seven gay and lesbian couples from China were married in the Southern California gay capital of West Hollywood on Tuesday after winning a contest sponsored by a pair of Chinese Internet companies.
The seven couples were selected from among more than 2,000 based on videos they submitted detailing their love stories, after Internet users voted for their top 10 favorites on Taobao, Alibaba's popular e-commerce site.
West Hollywood Mayor Lindsey Horvath officiated the wedding ceremonies at a city library for six gay and one lesbian couple who managed to get US visas. The contest was also sponsored by Blued, a social media app popular with gays in China.
"We're so honored and happy to have them in West Hollywood," Horvath said.
"We've been together for almost eight years, so we want to give each other a promise or a commitment for life," said Hu Zhidong, 32, who met his partner, Liu Xin, also 32, at a party, where they found out they shared the same birthday.
To Xu Na, 29, and Xue Meng Yao, 21, the only lesbian couple participating in the ceremony, the opportunity to use this event to come out was also important.
"We want to find a proper time to tell our parents," Xu said. "This could be a good chance for them to see a lot of positive exposure."
During the ceremony the couples recited their vows in both English and Chinese, often while shedding tears.