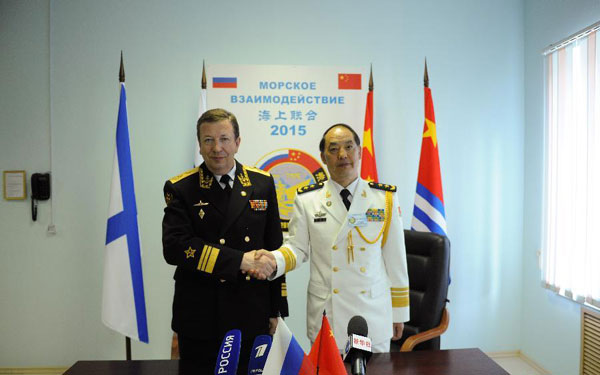 Du Jingchen (R), deputy commander of the Navy of the People's Liberation Army of China shakes hands with Alexander Fedotenkov, deputy commander of the Russian Navy during a joint press conference in Novorossiysk, Russia, on May 21, 2015. [Photo/Xinhua]
MOSCOW -- Russian Defense Minister Sergei Shoigu on Monday praised recently-ended joint Russia-China sea drills "Joint Sea-2015" for high-level coordination.
"The training generally demonstrated a high level of interaction between Russian and Chinese sailors. All combat training tasks were fulfilled with good and excellent results," Shoigu said at a defense meeting.
Russia plans to continue such "important" joint operative and combat training exercises with China, he was quoted by Interfax news agency as saying.
The "Joint Sea-2015" drills, which lasted for 11 days in the Mediterranean and involved six Russian and three Chinese ships, focused on military exercises of maritime defense, replenishment and escorting. It was the fourth since joint China-Russia sea drills began in 2012.
During the meeting, Shoigu also reviewed recent snap drills carried out in the central military district.
"The surprise check tested the ability of the district troops and forces to deter hostile air attacks and to carry out air strikes on extremists' bases," he said.
Meanwhile, the minister announced that massive military infrastructure construction was underway on "several Arctic islands of Kotelny, Wrangel, Alexandra Land, as well as on Cape Schmidt and archipelagos like Novaya Zemlya."
"The infrastructure construction is going on stage by stage, while a broad range of measures are planned to equip the troops and the Arctic zone," Shoigu said.