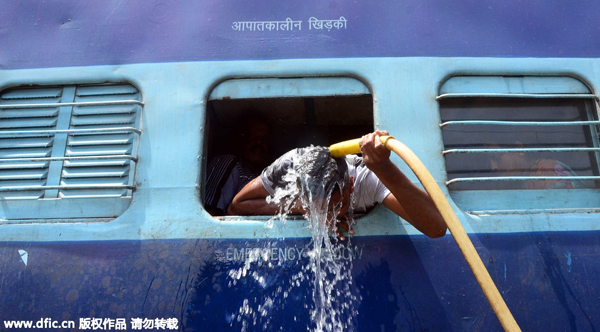 An Indian commuter uses the train water pipes to bath at railway station in Allahabad, May 24, 2015. [Photo/IC]
NEW DELHI - More than 1,100 people have died due to intense heat wave across India in the last one week, an official said Wednesday.
"With more people succumbing to heat stroke in the southern Indian states of Andhra Pradesh and Telangana Tuesday, the death toll has now crossed 1,100. Some 20 deaths have been reported from other parts of India, including the western state of Gujarat," he said, on condition of anonymity.
The states that are the most hit are Andhra Pradesh where 852 people have died so far, followed by Telangana where the toll has crossed 260, the official said, adding seven people have died in Gujarat also.
Both the southern states have been recording around 47 degrees Celcius while the temperature in the Indian capital has been hovering around 45 degrees Celsius, according to weather officials.
The weather department has attributed the severe hot conditions in India to the heat wave in Pakistan, though they have predicted some rain in some parts of the country Thursday. But the thunder showers may not last long till monsoon finally sets in after a month.