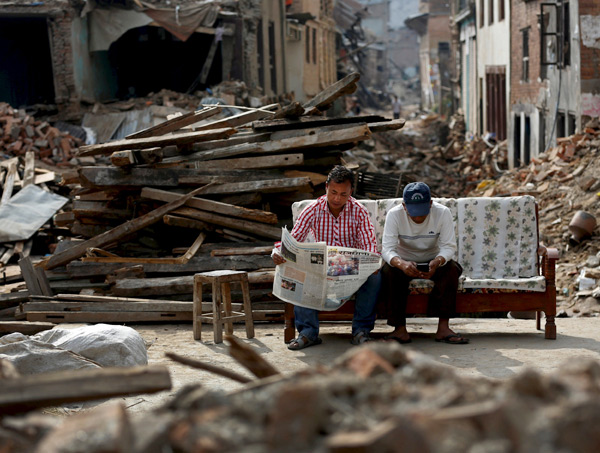 A man reads a newspaper as his friend looks at his mobile phone, as they sit next to collapsed houses on the outskirts of Kathmandu, Nepal, May 15, 2015. [Photo/Agencies]
KATHMANDU - Despite that two strong earthquakes have rattled Nepal, thousands of Nepalese teachers queued up Thursday to take the examinations for permanent teaching positions.
"More than 6,000 people have already submitted their forms for the examinations for permanent teachers," said an education official at the Viswa Niketan Higher Secondary School, one of the two centers in the Central Development Region to accept application forms.
The official said that as the forms are to be collected only in the regional level, there was a deluge of applicants in the last minute.
Sarada Regmi from Kathmandu is competing for a permanent secondary level Nepali language teacher. She said there is a vacancy for only 44 positions but there are more than a thousand examinees.
"Though the competition is tough, I am confident that I can pass the exams," she said.
Regmi has been teaching for 15 years in a community school but she has only a temporary appointment. She said that if she passes the examinations, she would be given a permanent position.
"What I am after are job security and other benefits that go with a permanent position," Regmi said.
Regmi has survived the two successive quakes but the apartment where she used to live has suffered cracks and could be demolished.
According to Regmi, the government should consider the experience of temporary teachers like her and should be given priority in permanent positions.
Gukul Giri from Dhading, one of the worst quake-affected districts, has been teaching for 12 years in Rani Pauwa higher secondary school. He said that he wants to have a permanent job especially now that there is a job scarcity due to the earthquakes.
"There might be more unemployment and the powerless people like us would have no access to the top-level jobs, especially in the private sector. I prefer to a permanent government job because it offers more security," Giri said.