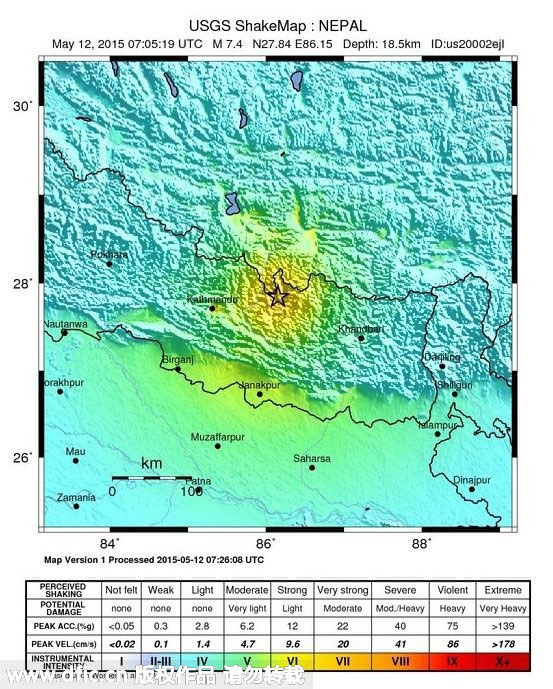 A shake map released by the US Geological Survey (USGS) May 12, 2015 shows the location of an earthquake 83 km east of Kathmandu, with a magnitude of 7.4. [Photo/IC]
At least four people were killed in a central Nepal town on Tuesday after a magnitude 7.4 earthquake, just weeks after a devastating temblor killed more than 8,000 people and damaged hundreds of thousands of buildings.
The earthquake also kills one man in neighbouring Indian state of Bihar.
The four people died in Chautara in Sindhupalchowk district, north of the capital Kathmandu, after several buildings collapsed, a spokesman for the International Organization for Migration said.
"Buildings down in Chautara ...Bodies being brought out of buildings," the International Organization of Migration, a United Nations agency, said on its Twitter feed.
Separately, a district official there said 12 people had been injured in Sindhupalchowk, which suffered the heaviest death toll in last month's quake. The new temblor also triggered at least three big landslides in the district.
"The latest earthquake has left us shaken. I am still trembling," said the official, Diwakar Koirala.
The aftershock occurred at 12:50 pm local time (0705 GMT).
The US Geological Survey said the quake struck 68 km west of the town of Namche Bazar, close to Mount Qomolangma and 22 km southeast of Zham, China. The quake was measured at a shallow depth of about 10 km.
The quake's epicentre was close to Qomolangma Base Camp, which was evacuated after an avalanche triggered by the April 25 quake killed 18 climbers. Mountaineers seeking to scale the world's tallest peak have called off this year's Qomolangma season.
Shockwaves were felt in Dhaka, the capital of Bangladesh and across northern India, as far away as the capital New Delhi, where buildings swayed for more than a minute and people scurried into the streets.
BBC reports earthquake also felt in Afghanistan.
"This is a really big one," said Prakash Shilpakar, the owner of a handicrafts shop in Kathmandu who was trying to call his parents in the town of Bhaktapur, devastated in the April 25 quake, which has left more than 8,000 people dead.