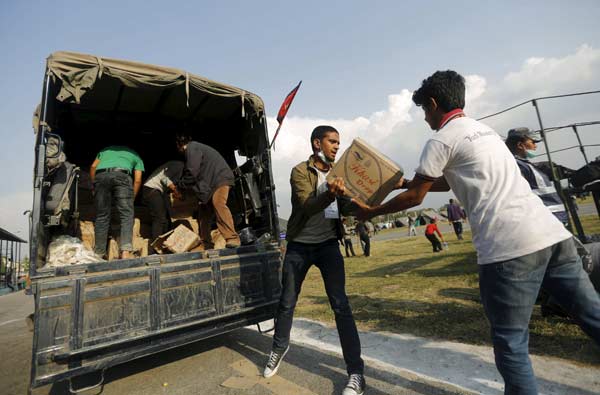 Volunteers unload relief material for earthquake victims at a camp for displaced people, in Kathmandu, Nepal May 6, 2015. [Photo/Agencies]
KATHMANDU -- Nepal's Prime Minister Sushil Koirala has promised that the relief materials would be distributed to the quake victims in an effective manner at the earliest possible date as the government has announced its relief package.
The government is committed to distributing relief materials to the real victims by identifying their status, the prime minister said at a meeting of the Poor Household Support Coordination Board on Monday.
According to Chintan Poudel, executive vice-chairman of the board, decision has been made to immediately begin the household survey campaign to find the real data of the quake-affected districts.
The poor people in these districts would be classified into three different categories and relief materials would be provided to them, The Rising Nepal newspaper reported on Tuesday.
The 7.9-magnitude earthquake that jolted the Himalayan country on April 25 has left 8,151 people dead and 17,866 others injured, according to the latest statistics of the Nepalese government.
As of May 9, nearly 21.5 tons of rice, sugar and salt had been distributed by the government's District Administration Office to 10 quake-affected districts as part of the relief goods.