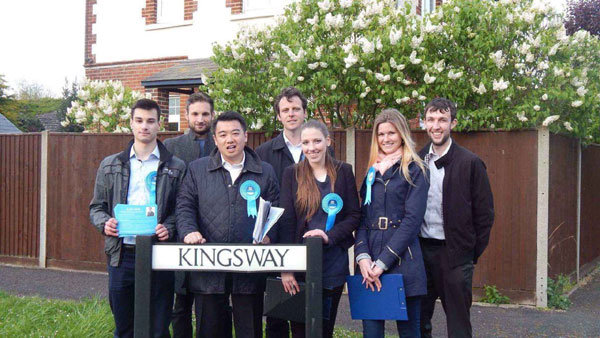 Alan Mak (second from left, front line) during his campaign. Photo provided by British Chinese Project
Alan Mak, a Conservative who won a seat representing Havant in the British general election, on Friday became the first elected ethnic Chinese MP in Parliament's 800-year history.
Mak, 31, was selected from 24 candidates by the local Conservative Association "in one of the toughest selection processes ever undertaken" to replace incumbent David Willetts, who is standing down after 23 years.
During the final primary, Mak told the selection panel he was a "Thatcherite, patriot, local champion and national voice" who would work tirelessly for the people of Havant.
Mak, who was born in Yorkshire, is the Cambridge-educated son of working-class Hong Kong immigrants.
"I see public service as a way of giving back to a wonderful country. My parents always taught me to do good, not just do well," he told local media.
Christine Lee, founder and chairwoman of the British Chinese Project, and Chinese community in Britain warmly congratulated Mark on his success. The project is a non-partisan, voluntary organization seeking to raise the presence of the Chinese community in the British political arena.
"This is an historical moment for the Chinese community in Britain, a milestone," Lee said, adding that Mak's story proves that great effort can make you succeed.
Mak set a very good example for the younger generation of Chinese in Britain, Lee said.
There were 11 Chinese candidates, including two women, standing in the British election this year, a new record.
Analysts noted that it reflects the change in attitude towards politics among the younger generation of Chinese in the UK.
"Most of our Chinese candidates are of a similar age, they are a generation of British Chinese who have grown up understanding the UK political system and wanting to make a difference," said Michael Wilkes, vice chairman of the British Chinese Project.
"I believe this is the beginning of the British Chinese breaking that political glass ceiling," Wilkes added.
The Conservatives had five ethnic Chinese candidates, including Alan Mak, Jackson Ng, Mark Lim and mainland migrants Edward Yi He and Wang Xingang.
The Liberal Democrats fielded three ethnic Chinese candidates - Steven Cheung, Philip Ling and Alexander Payton; the Green Party, one - James Chan; and Labour, two - Sarah Owen and Rebecca Blake.
At the last general election, in 2010, there were seven ethnic Chinese candidates and none won a seat.
With the rapid growth in the number of skilled immigrants and students from China settling in Britain, there has been a political awakening and a growing desire to have their voices heard, experts noted.
"For a long time the Chinese community has stayed outside the political process in the UK. Chinese candidates who stood in elections have been few. But in the last five years we saw the Chinese getting engaged in a wide range of political events… making use of the British political process to voice their concerns," said Joseph Wu, a broadcaster for the British Chinese Project.