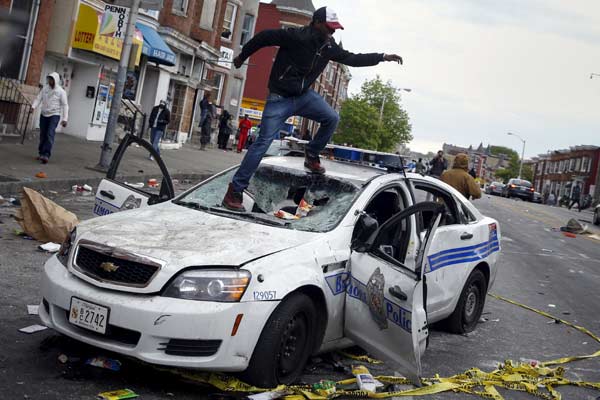 Demonstrators jump on a damaged Baltimore police department vehicle during clashes in Baltimore, Maryland April 27, 2015. [Photo/Agencies]
BALTIMORE - Rioters plunged part of Baltimore into chaos Monday, torching a pharmacy, setting police cars ablaze and throwing bricks at officers hours after thousands mourned the man who died from a severe spinal injury he suffered in police custody.
The governor declared a state of emergency and called in the National Guard to restore order. A weeklong, daily curfew was imposed beginning Tuesday from 10 p.m. to 5 a.m., the mayor said.
Police said 15 officers have been injured and two remained hospitalized. Officers wearing helmets and wielding shields occasionally used pepper spray to keep the rioters back. For the most part, though, they relied on line formations.
Police said about two dozen protesters had been arrested.
Monday's riot was the latest flare-up over the mysterious death of Freddie Gray, whose fatal encounter with officers came amid the national debate over police use of force, especially when black suspects are involved. Gray was African-American.
Emergency officials were constantly thwarted as they tried to restore calm. Firefighters trying to put out a blaze at a drug store were hindered by someone who sliced holes in a hose connected to a fire hydrant, spraying water all over the street and nearby buildings.
The smell of burned rubber wafted in the air in one neighborhood where youths were looting a liquor store. Police stood still nearby as people drank looted alcohol. Glass and trash littered the streets, and small fires were scattered about.
"Too many people have spent generations building up this city for it to be destroyed by thugs, who in a very senseless way, are trying to tear down what so many have fought for, tearing down businesses, tearing down and destroying property, things that we know will impact our community for years," said Mayor Stephanie Rawlings-Blake, a lifelong resident of the city.
Gray's family was shocked by the violence and was lying low; instead, they hoped to organize a peace march later in the week, said family attorney Billy Murphy. He said they did not know the riot was going to happen and urged calm.