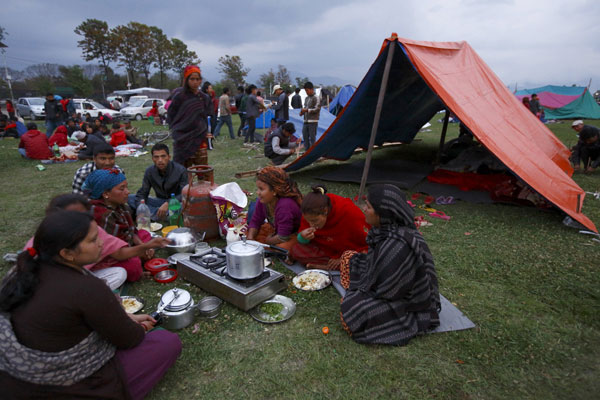 Family members eat their dinner in front of a makeshift shelter on open ground to keep safe after an earthquake in Kathmandu, Nepal April 26, 2015, a day after a 7.9 magnitude earthquake killed more than 2,400 people and devastated Kathmandu valley. [Photo/Agencies]
KATHMANDU - Following a massive 7.9- magnitude earthquake and aftershocks almost every day in Nepal, there has been a high possibility of outbreak of communicable diseases, medical professionals said on Monday.
As residents of the capital were gathering in open spaces in different locations with only few clothes and limited food, chances of water- and air-borne diseases were increasing, they said.
"People are in grounds under open sky with garbage disposed nearby. They are out of access of masks. They also lack nutritious food and drinking water which can lead to the eruption of communicable diseases," Girwan Timalsena of Tribhuwan University Teaching Hospital told Xinhua.
The capital has been messy with the debris of damaged buildings and garbage on the streets. A packet of instant noodle has been an easy accessible food for many as they have been staying outdoors.
Ramila Adhikari, a pharmacist in Nagarik community hospital in Bhaktapur, said, "Since Sunday noon, there have been a flow of people complaining of cough and cold, mild fever and diarrhea."
Meanwhile, medics have been scrambling to attend the injured and treat many of them in the premise of hospitals because of lack of beds.
The powerful quake, which struck Nepal on Saturday, has killed over 3,200 people and injured 6,500 others in the Himalayan country, according to latest official statistics.