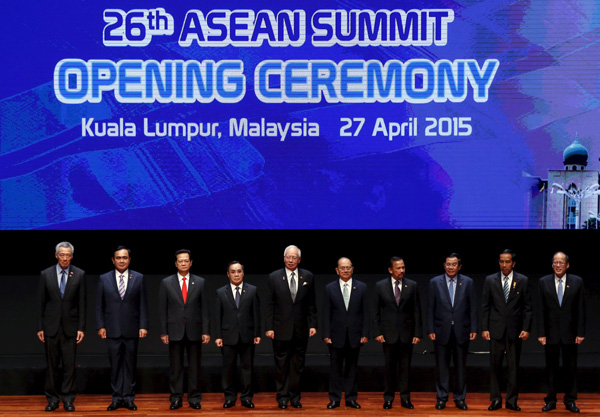 (L-R) Singapore's Prime Minister Lee Hsien Loong, Thailand's Prime Minister Prayut Chan-o-cha, Vietnam's Prime Minister Nguyen Tan Dung, Laos' Prime Minister Thongsing Thammavong, Malaysia's Prime Minister Najib Razak, Myanmar's President Thein Sein, Sultan of Brunei Hassanal Bolkiah, Cambodia's Prime Minister Hun Sen, Indonesia's President Joko Widodo and Philippines' President Benigno Aquino III, pose for a photo during the opening ceremony of the 26th ASEAN Summit in Kuala Lumpur, Malaysia, April 27, 2015. [Photo/Agencies]
BEIJING - As southeast Asian leaders gather in Kuala Lumpur on Monday for a summit critical to their bloc's goal of forging a regional community, the Philippines has been making a racket of strident background noise that threatens to drown out the rallying cry.
The repeated hyping by Philippine officials of the South China Sea issue is nothing but a plot to hoodwink the entire Association of Southeast Asian Nations (ASEAN) into acting as a cat's-paw in Manila's futile fight for its unfounded claims.
That trick is doomed. The 10-member union, which has built its striking edifice today on a tradition of strategic statesmen prevailing over parochial politicians, has never allowed itself to be reduced to the dupe of some self-centered troublemakers, and the chance for it to discard that indispensable custom is virtually nil.
In an admirable manifestation of its commitment to the time-honored ethos and to the grand vision of regional integration, the ASEAN chair this year, Malaysia, has vowed to focus the summit on the real priority, community-building, which has entered the home stretch.
The other clear-eyed and far-sighted in the ASEAN team need to help their host prevent their pivotal meeting from being hijacked by one headstrong member and derailed from the right track to the detriment of the whole region's interests.
It is not that the bloc should now throw anyone overboard. Unity and compromise form the bedrock of integration. It is just that ASEAN leaders need to steer clear of bad concessions and preclude the squeaky wheel from misleading them into misspending the oil.
For starters, ASEAN is not a party in any of the complicated South China Sea disputes. Thus it is perfectly logical and highly advisable that it refrain from entangling itself in individual rows, which should be unraveled by those directly involved.