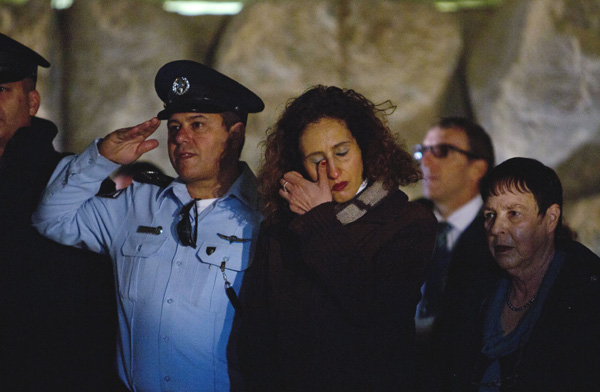 Israelis stand as a siren is sounded during a ceremony marking Holocaust Remembrance Day at Yad Vashem Holocaust memorial in Jerusalem April 16, 2015. [Photo/Agencies]
JERUSALEM - Israelis across the country stood in silence as sirens wailed on Thursday to remember the 6 million Jews who perished in the hands of the Nazis during World War II.
The entire nation came to a standstill as sirens pierced the air at 10:00 am (0700 GMT), heralding the start of a series of memorial activities marking Holocaust Remembrance Day.
Traffic on roads and highways stopped. Many drivers stepped out their vehicles, standing still in contemplation. Pedestrians halted their steps and stood in silence.
TV channels and radio stations were broadcasting solely Holocaust-related content, such as documentaries, interviews with survivors and melancholic songs.
Memorial ceremonies were held in schools across the country.
At the Yad Vashem Holocaust museum in Jerusalem, President Reuven Rivlin and Prime Minister Benjamin Netanyahu laid wreaths in memory of the victims.
Later Thursday, ministers, lawmakers and Holocaust survivors will read out the names of Holocaust victims at the Knesset (parliament).
This year marks 70 years since the end of World War II.
On Wednesday, opening the memorial events at Yad Vashem, President Rivlin said Israel will continue to struggle against anti-Semitism around the world.