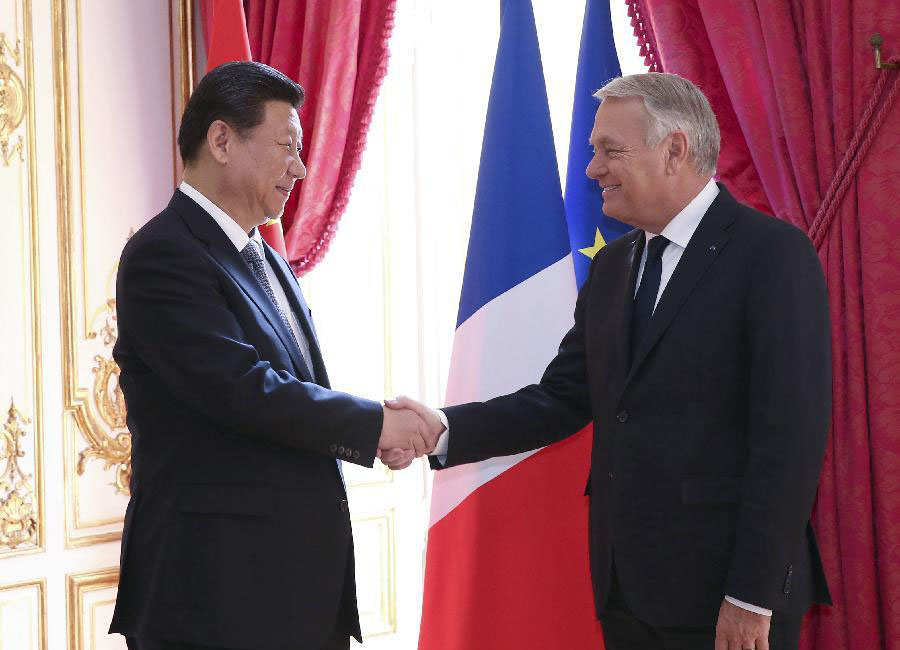 Chinese President Xi Jinping (L) meets with French Prime Minister Jean-Marc Ayrault in Paris, France, March 27, 2014. [Photo/Xinhua]
PARIS - Chinese President Xi Jinping said in Paris Thursday that his country and France enjoy huge potential to further promote bilateral cooperation.
With China and France respectively being the world's second and fifth largest economy, the potential of bilateral cooperation is enormous, Xi said during a meeting with French Prime Minister Jean-Marc Ayrault.
Citing his contact with many members of the French business circle, the president said he felt a strong desire in them to boost cooperation with China.
The mid- and long-term plan for China-France relations released Wednesday will further promote bilateral trade and mutual investment, added the president.
The two sides, he said, should boost cooperation in nuclear power, space and aviation, properly carry out the Airbus final assembly line project in Tianjin, and push forward the Wuhan sustainable development project and other cooperation programs in emerging areas.
The Chinese president also called on the two countries to establish a consultation mechanism on maritime affairs and step up tourism cooperation and sub-national exchanges.
Beijing, he said, hopes that France will provide a favorable investment environment for Chinese enterprises, and welcomes French financial institutions to invest in RMB assets.
The president also proposed that China and France explore the possibilities of conducting tripartite cooperation in third countries.
For his part, Ayrault said France views its partnership with China from a long-term perspective and stands ready to work with China to maintain political dialogue, boost people-to-people exchanges and promote coordination on major global and regional issues.
On economic cooperation, he said he hopes the two sides will consolidate cooperation in traditional areas and actively explore new realms of bilateral cooperation.
France welcomes Chinese investment, added the prime minister.
Xi is in France for a state visit at the invitation of French President Francois Hollande. The two presidents held talks on Wednesday.
France is the second leg of Xi's ongoing Europe trip, which will also take him to Germany and Belgium. Before France, Xi visited the Netherlands and attended the third Nuclear Security Summit in The Hague.