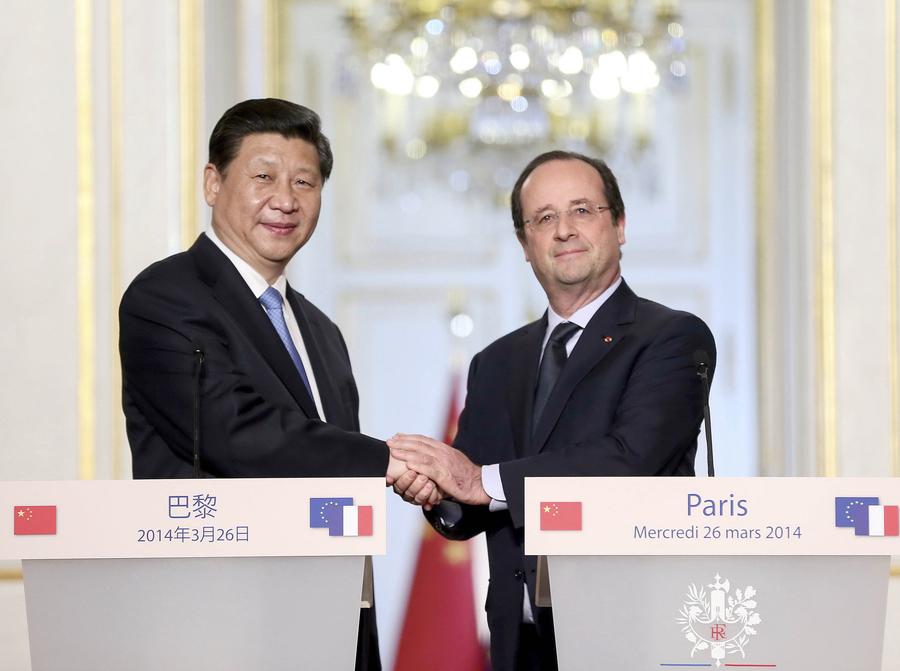 Chinese President Xi Jinping (left) shakes hands with his French counterpart Francois Hollande during a press conference in Paris, capital of France, March 26, 2014. [Photo/Xinhua]
PARIS - China and France vowed on Wednesday to strengthen dialogue to promote bilateral ties and better coordinate on global issues, while expressing strong desire to further enhance bilateral cooperation in various fields.
The two sides made the pledge as Chinese President Xi Jinping is in France for a state visit at the invitation of his French counterpart Francois Hollande.
This year marks the 50th anniversary of China-France diplomatic ties and the 10th anniversary of the establishment of their comprehensive strategic partnership.
According to a mid- to long-term blueprint for the development of bilateral ties published after Xi met Hollande here on Wednesday, presidents of the two countries will continue to meet each year, and exchange ideas on major bilateral and global issues of common concern at multilateral events.
Continuous exchange of high-level visits are encouraged, while ways and content of exchange and dialogue should be enriched to demonstrate the comprehensiveness and closeness of the Sino-French ties, according to the blueprint.
The two countries will also promote the role of a high-level dialogue on economy and finance in coordinating their respective macro-economic policies, deepening financial cooperation, solving economic and trade problems, and improving global economic governance.
Also, Beijing and Paris are to enhance coordination within the UN framework on global and regional hotspot issues, jointly respond to such challenges as terrorism, weapons of mass destruction and their delivery, as well as cyber security.
Meanwhile, the two sides will strengthen dialogue on African issues to assist African countries to achieve stability and development of the continent.
Moreover, they will continue to hold dialogue on cyber issues in a bid to build a peaceful, open, secure and reliable cyberspace that benefits the international community, and will go on with their exchange and cooperation within the framework of the Asia-Europe Meeting to boost pragmatic collaboration.
Also in the blueprint, the two sides agreed to strengthen cooperation in a variety of fields, including the industrial and aviation sectors.
Car manufacturing is listed as a priority, as the two countries vowed to strengthen collaboration between French automaker PSA Peugeot Citroen and China's Dongfeng Motor Group and Changan Automobile, respectively, and between France's Renault Group and Dongfeng.