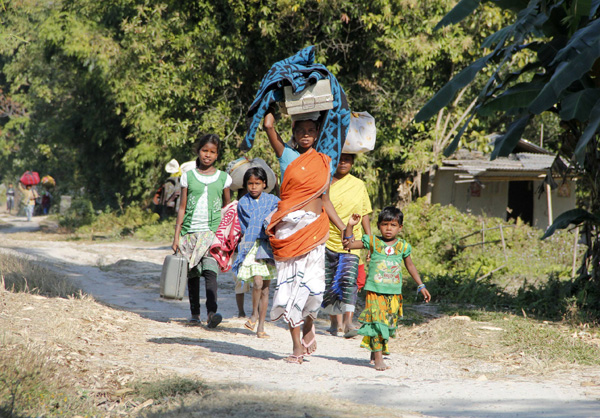 A family carries their belongings as they move to a safer place after ethnic clashes in Tenganala village, in Sonitpur district in the northeastern Indian state of Assam December 24, 2014. [Photo/Agencies]
NEW DELHI - The Indian Army Friday said that it would intensify its operations against Bodo militants, who killed over 80 people in the northeastern state of Assam Tuesday.
"We had a review meeting and will soon intensify our operations in Assam," Indian Army chief General Dalbir Singh Suhag told the media, after meeting Home Minister Rajnath Singh in the national capital.
Local TV channels reported, quoting sources, that the home minister had asked the Indian Army chief for an all-out operation against the militants.
On Tuesday evening, Bodo militants, who are opposed to peace talks with the Indian government, killed over 80 people, mostly tribals, in five attacks across the state within an hour.
Men, women and children were dragged out of homes by militants dressed in military uniforms and killed, and their houses were also burnt.
More than 10,000 people are said to be displaced in the state.