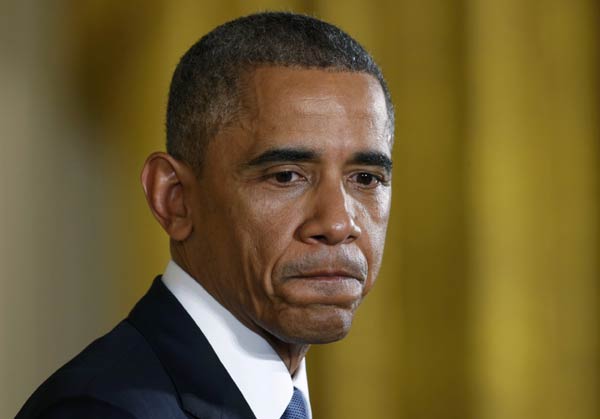 US President Barack Obama pauses during a a news conference in the East Room of the White House in Washington, November 5, 2014. [Photo/Agencies]
WASHINGTON - US President Barack Obama's determination to act alone to change the U.S. immigration system promptly drove a wedge Wednesday into the post-election commitment from the president and Republican leaders to find common ground under the new political alignment.
Obama defiantly stood by his pledge to act on his own to reduce deportations, grant work permits and improve border security by the end of the year despite resounding election victories by Republicans strongly opposed to his plans. The Senate's likely majority leader next year, Republican Mitch McConnell, declared that such a move would amount to "waving a red flag in front of a bull."
On a day when both sides tried to herald a new era of potential compromise, immigration stood out not only as a single obstacle to bipartisanship but also as a sign that the hard-fought election and the heavy Democratic losses had not pushed partisan sparring aside.
"I have no doubt that there will be some Republicans who are angered or frustrated by any executive action that I may take," Obama said in a post-election news conference. "Those are folks, I just have to say, who are also deeply opposed to immigration reform, in any form, and blocked the House from being able to pass a bipartisan bill."
He cast his executive actions as an inducement for Republicans to pass their own immigration bill.
"The best way, if folks are serious about getting immigration reform done, is going ahead and passing a bill and getting it to my desk. And then the executive actions that I take go away," he said.
Republicans led by McConnell pledged to use their newfound majorities to stop him.
"I hope he won't do that, because I do think it poisons the well for the opportunity to address a very important domestic issue," McConnell said in Louisville, Kentucky, as he celebrated a victory in his own Senate race and the GOP's capture of the Senate.
Some on the right said executive action on immigration could even be grounds for impeachment. Several House Republicans said Obama would make it very difficult to cooperate on other issues if he acts on immigration.
"Him moving ahead like that, I think he's completely tone deaf to what happened last night," said Rep. Phil Roe, a Republican.