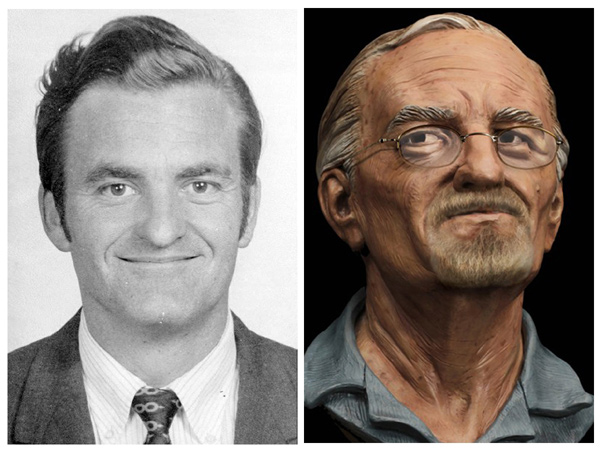 William Bradford Bishop Jr. is pictured between 1970-1975 and as a bust in his likeness at age 77 in these photos provided by the FBI. The unidentified body of a man dead for 33 years was exhumed on Oct 9, 2014 in Alabama in hopes of linking it to Bishop Jr., an FBI Top 10 most wanted fugitive suspected in the 1976 bludgeoning deaths of his wife, mother and three sons, federal authorities said. [Photo/Agencies]
WASHINGTON - A diplomat suspected of killing his wife, mother and three sons in 1976 was added to the FBI's list of "Ten Most Wanted Fugitives" on Thursday, bringing new attention to a case that has long frustrated authorities.
William Bradford "Brad" Bishop Jr., a State Department employee at the time, allegedly bludgeoned his family to death in their home in the Maryland suburbs of Washington, and then drove to a wooded area in North Carolina, where authorities say he dumped their bodies in a shallow grave and burned them.
The victims' bodies weren't identified until a week later, giving Bishop ample time to plot a getaway.
Investigators have said it's possible that Bishop, who would now be 77 years old, fled to Europe and is living there under a false name. A Yale graduate who later earned a master's degree in Italian, he is fluent in five languages.
There hasn't been a confirmed sighting of Bishop since 1976, in Jacksonville, North Carolina, although three people who knew him have reported spotting him in Europe over the years, most recently in 1994.
"Brad, you've been living with this on your conscience now for 38 years," Montgomery County, Maryland, Sheriff Darren Popkin said. "I am the voice of your family who can no longer speak. The time is now to contact law enforcement."
People on the FBI's most wanted list have included Osama Bin Laden, Boston organized crime boss James "Whitey" Bulger and James Earl Ray, who assassinated Dr. Martin Luther King Jr. The list was founded in 1950, and more than 90 percent of the 501 people placed on the list have been found.
The FBI, the State Department and local police established a task force last year to review the Bishop case, and authorities hope that by placing him on the list, the public might be able to help find him.
"Bishop broke with his life and assumed a new identity. Because of that fact, most traditional fugitive investigative techniques are worthless," said Steve Vogt, special agent in charge of the FBI Baltimore Division. "We're hoping media and people who are active on social media pay attention to this; they'll be the ones to solve this case."
Bishop replaces alleged MS-13 gang member Juan Elias Garcia on the most-wanted list. Garcia, who's charged in the execution-style murders of a 19-year-old woman and her 2-year-old son, surrendered in late March, just two days after he was placed on the list.