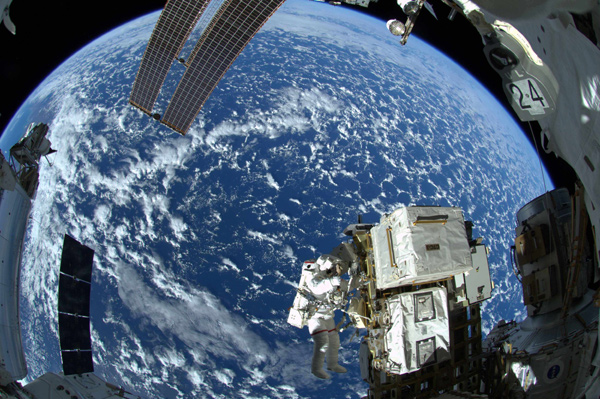 NASA astronaut Reid Wiseman and European Space Agency astronaut Alexander Gerst (not shown) works outside the space station's Quest airlock in the first of three spacewalks for the Expedition 41 crew aboard the International Space Station in this image released Oct 8, 2014. [Photo/Agencies]
A pair of astronauts floated outside the International Space Station on Tuesday for a six-hour spacewalk to perform maintenance work including putting an old cooling pump into storage.
Flight engineers Reid Wiseman with NASA and Alexander Gerst with the European Space Agency left the station's Quest airlock about 8:50 am EDT (1250 GMT), a first spacewalk for both, a NASA Television broadcast showed.
Their primary goal was to finish work from December to replace a failed ammonia cooling pump.
"Nice work today, guys. Great job on the tasks," NASA astronaut Doug Wheelock from Mission Control in Houston radioed to the astronauts as they returned to the airlock six hours later.
The old cooling unit was removed and a spare installed during two December spacewalks, but the repair crew ran out of time to put the failed module into storage for possible repair and reuse.
After gathering tools, Wiseman prepared the intended storage site on one of the station's external stowage platforms while Gerst attached himself to the end of the station's 58-foot-(18-metre) long robotic arm to move the old pump.
With NASA crewmate Butch Wilmore operating the crane from inside the station's cupola module, Gerst carried the module, which on Earth weighs about 850 pounds (385 kg), over to its storage site.
"Nice flying, Butch," Wheelock radioed to the crew.
After bolting the module into place, Wiseman and Gerst tackled some electrical work to provide an alternative power source for equipment on the robot arm's mobile base.
They also replaced a light in a television camera outside the Destiny laboratory module.
A second outing by Wiseman and Wilmore is scheduled for Oct. 15 to replace a failed component in a voltage regulator that is part of the station's solar power system.
The device failed in May, taking down one of the station's eight power channels.
Wiseman and Wilmore also plan to relocate some camera equipment before a major reconfiguration of station modules next year, intended to prepare berthing spots for new commercial passenger spaceships.
The station is a $100 billion science laboratory owned by 15 countries that flies about 260 miles (420 km) above Earth.