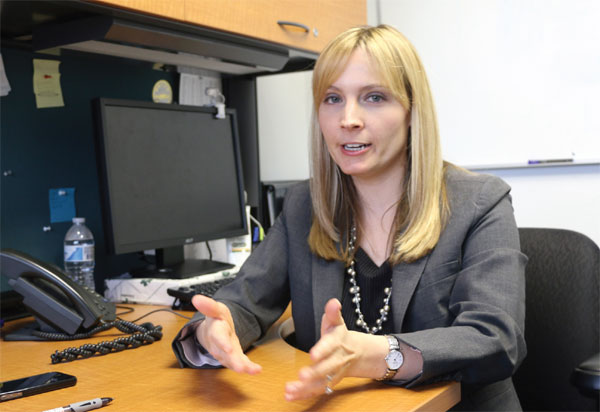 Melanie Hart, director of China Policy at Center for American Progress in Washington, talks to China Daily in her office on Wednesday. Chen Weihua / China Daily
Melanie Hart, director of China Policy at the Center for American Progress (CAP), a think tank in Washington, feels mid-career scholars like her see US-China relations somewhat differently compared with the old generation.
"We feel more secure with US-China relationship, and therefore bolder," says Hart, explaining that is probably because she has never seen the relationship completely falls apart.

"I've seen that the ties that bind us are so strong that I feel we can really be honest with one another now," says the 35-year-old, already a specialist in China's policy on innovation, energy, environment and climate change.
Hart sees the difference resulting from the fact that her generation were able to go to the Chinese mainland first. "We didn't study Chinese in Taiwan. We were able to go straight to China (mainland)," she says.
The deep and wonderful friend network Hart has kept in China since her college years means a lot to her. "You know one another when you were completely unimportant, and what you said mattered to no one, so it's a very honest conversation," she says, referring to her contact with those friends in China.
She also believes that in an Internet age, the leaks of everything which include Party documents make it possible for her to get more inside information and it's probably also true for those in China to get inside information on the US side.
Speaking fluent Chinese, Hart thinks it makes a big difference when her generation can talk to each other without interpreters.
Beijing adventure
From Beaumont, an oil town near Houston, Texas, Hart fell in love with China-US relations as an undergraduate of international studies at Texas A&M University.
She says she was then also interested in US Middle East policy, but was aware of the views on women in that geographical area. "I think I will be welcomed in China and treated equally," Hart explains about her decision to focus on studying China.
Unlike today, Texas A&M had no Chinese-language program at that time. So Hart, through the introduction of a Chinese graduate student there, went to study Chinese at the China Foreign Affairs University (CFAU) in Beijing in 2002, shortly after her graduation.
She realized that Texas A&M not having a Chinese program actually provided a great opportunity. "My first deep exposure was directly in China," she says.
While learning the Chinese language from scratch at CFAU, Hart also sat in classes on Chinese foreign policy, learning mostly the Chinese views.
It was less than a year after the collision between US spy plane EP-3 and Chinese fighter jet off China's Hainan Island. Bilateral relations had suffered a setback. But Hart says her experience of being received in Beijing was overwhelming.
"I could see we have something tense happening in the high level, but at the low level, people were amazingly welcoming to me," she says. "The professors were wonderful, the students were wonderful. On the streets, people were happy to see me and happy to talk to me."
Hart knows that Americans are not received that way in every country in this world. "An an individual, my reception in China has been better than my reception in any other place," she says.
Besides Chinese curiosity about foreigners, Hart feels there is more there. "My impression is that people in China feel deep friendship for people in the United States," she recalls her experience in China as a student.
Hart believes this also means there is a huge amount of opportunities for cooperation and deep ties regardless of what's happening at the top level.
During her stay in Beijing in 2002, Hart also witnessed the major Party Congress in which President Hu Jintao assumed leadership.