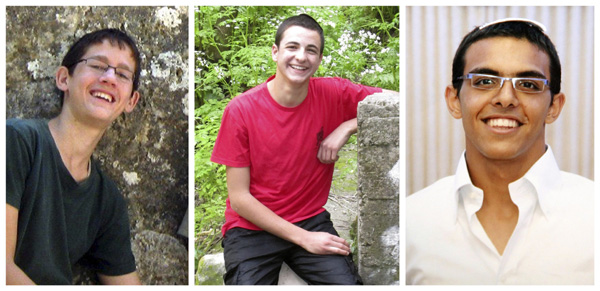 Three Israeli seminary students (from L-R) Naftali Fraenkel, 16, who also holds a US citizenship, Gil-Ad Shaer, 16, and Eyal Yifrah, 19, are seen in this combination picture of undated family handout photos released June 16, 2014. [Photo/Agencies]
HEBRON, West Bank - The two Palestinians blamed for abducting and killing three Israeli teenagers in June were killed by Israeli troops, said a senior Israeli army official Tuesday.
Marwan Qawasmeh and Aamer Abu Eisha were shot dead Tuesday morning in the southern West Bank city of Hebron in a campaign launched by the Israeli army, the Israeli Yedeoth Ahronot daily quoted the official as saying.
The official said the Israeli soldiers exchanged fire with the two Palestinians and before they shot them dead.
Meanwhile, residents in al-Jame'aa neighborhood in Hebron said the Israeli soldiers were still in the city, arresting three relatives of Qawasmeh, who were believed to have aided the two militants.
The kidnapping and killing of the three Israeli teens sparked a 50-day war in Gaza. Manhunt for the two suspects started after the three Jewish seminary students went missing on June 12.