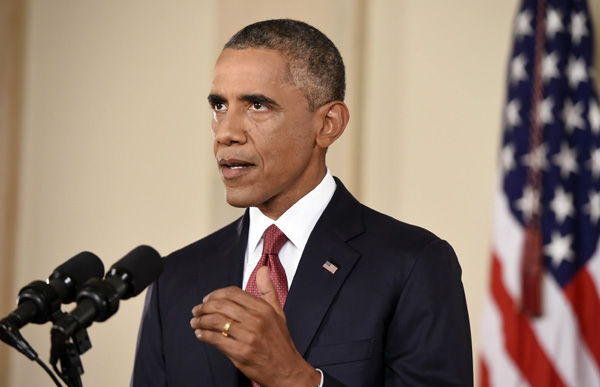 US President Barack Obama delivers a live televised address to the nation on his plans for military action against the Islamic State, from the Cross Hall of the White House in Washington September 10, 2014. [Photo/Agencies]
WASHINGTON - President Barack Obama told Americans on Wednesday he had authorized US airstrikes for the first time in Syria and more attacks in Iraq in a broad escalation of a campaign against the Islamic State militant group.
Obama's decision to launch attacks inside Syria, which is embroiled in a three-year civil war, showed the seriousness of the threat American officials see from Islamic State.
Obama laid out his emerging plan for tackling the group in a widely anticipated White House speech, two weeks after coming under fire for saying: "We don't have a strategy yet" for the group in Syria and six months after declaring that groups like Islamic State were minor players.
"Our objective is clear: we will degrade, and ultimately destroy, ISIL through a comprehensive and sustained counter-terrorism strategy," Obama said, using an acronym for Islamic State.
He said he would hunt down Islamic State militants "wherever they are."
"That means I will not hesitate to take action against ISIL in Syria, as well as Iraq. This is a core principle of my presidency: if you threaten America, you will find no safe haven," he said.
He said he would expand the list of targets inside Iraq beyond several isolated areas. He will send 475 more American advisers to help Iraqi forces, joining more than 1,000 already there. They will not engage in combat.