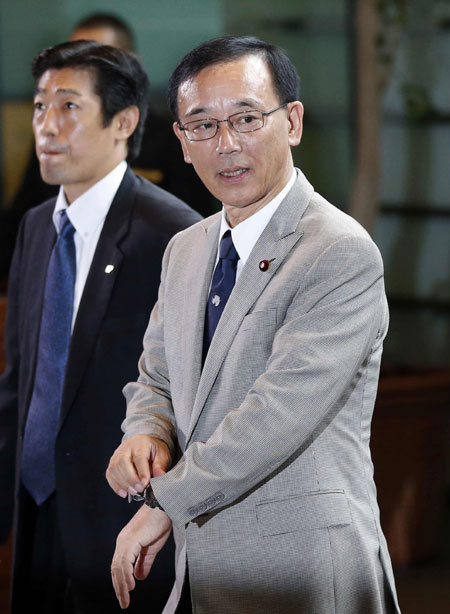 New Secretary-General of Japan's ruling Liberal Democratic Party Sadakazu Tanigaki arrives at Prime Minister Shinzo Abe's official residence in Tokyo, Sept 3, 2014.
TOKYO - Japan's ruling Liberal Democratic Party (LDP) unveiled its new executive lineup Wednesday, with Justice Minister Sadakazu Tanigaki replacing Shigeru Ishiba as the party's secretary general, local media reported.
Ishiba is seen as a potential rival to Prime Minister Shinzo Abe, who also heads the LDP, in future party leadership race and the replacement could weaken Ishiba's influence within the ruling party as No. 2 effective figure, according to analysts and reports here.
Toshihiro Nikai, 75-year-old head of the House of Representatives Budget Committee, became chairman of the LDP General Council, and State Minister for Administrative Reform Tomomi Inada, 55, was appointed as chairwoman of the LDP Policy Research Council.
LDP Vice President Masahiko Komura, 72, remains in his post and Trade and Industry Minister Toshimitsu Motegi was appointed as chairman of the Election Strategy Council.
The new LDP executive lineup came ahead of Abe's cabinet reshuffle on Wednesday. Local reports said that all 18 posts in the cabinet have been fixed, with five female members being enlisted.
Vice Prime Minister Taro Aso, who doubles as financial minister, Cabinet Secretary General Yoshihide Suga, Foreign Minister Fumio Kishida, Education, Culture, Sports, Science and Technology Minister Hakubun Shimomura are reportedly to remain in their posts.
Akira Amari, state minister for economic and fiscal policy who is also in charge of affairs related to the Trans-Pacific Partnership, and Land, Infrastructure, Transport and Tourism Minister Akihiro Ota will also stay in their posts, said Japan's Nikkei business newspaper.
Sanae Takaichi will replace Yoshitaka Shindo as internal affairs minister, while Akinori Eto, 58, will replace Itsunori Onodera as defense minister and double as the new created ministerial post of security legislation, reports said.
Another newly created post, minister in charge of boosting regional economy, was reportedly given to Ishiba, it added.
The current cabinet was launched in December 2012 and remained unchanged for about 20 months, creating a record for a postwar prime minister.
Support rate of the current cabinet dropped around 50 percent from a peak of over 70 percent due to the pass of Special Secrecy Bill and the approval of Japan's Self-Defense Forces to exercise rights to collective self-defense, as well as sales tax hike carried out in April this year.