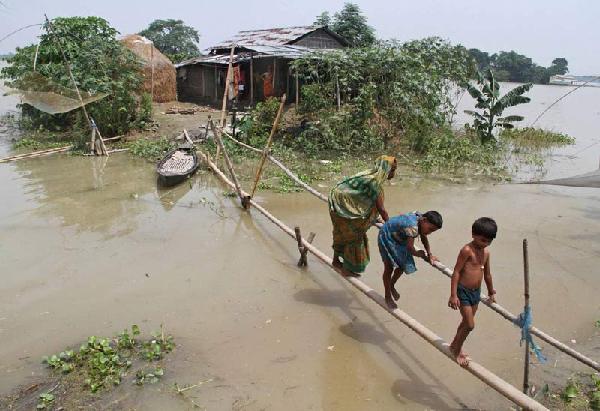 Villagers use a makeshift bamboo bridge to move across flooded areas of Morigaon district in the northeastern Indian state of Assam on August 20, 2014. [Photo/Agencies]
NEW DELHI -- Over 1.2 million people have been affected by floods in the northeast Indian state of Assam where the rivers, including the Brahmaputra and its tributaries, continue to rise above danger level, said officials Wednesday.
At least 10 people have died over the past 10 days in flood- related incident while over 1,260,000 people were affected due to floods in the ravaging waters of Brahmaputra and its tributaries which flooded over 2,000 villages in 16 districts of the state, said the State Disaster Management Authority in Guwahati, state capital of Assam.
Meanwhile, 163,000 people are taking shelter in over 200 relief camps set up by the government.
Authorities have sent the National Disaster Response Force and the State Disaster Response Force to the area with over 100 boats.