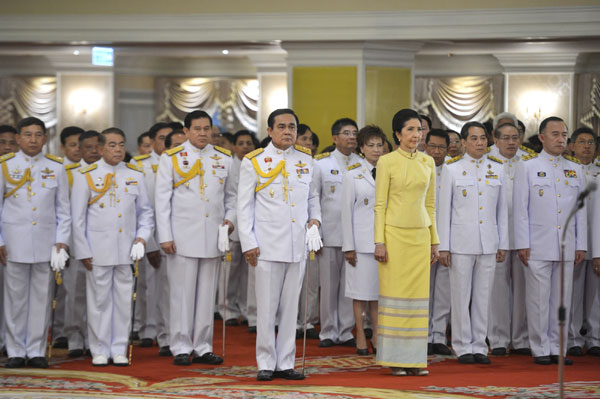 Thailand's newly appointed Prime Minister Prayuth Chan-ocha stands with his wife Naraporn during the royal endorsement ceremony at the Royal Army headquarters in Bangkok in this August 25, 2014 handout photo provided by the Thailand Government House.[Photo/Agencies]
BANGKOK - Thai junta chief Prayuth Chan-ocha on Monday morning received a royal command formally appointing him the 29th prime minister of the country.
Born in 1954, Prayuth was selected by the National Legislative Assembly, or the post-coup provisional legislature, as interim premier last Thursday.
The army chief and head of the National Council for Peace and Order (NCPO) received the royal command at the Army Headquarters, instead of the traditional venue at the Government House.
In an address delivered afterwards, the new premier said he would forward the cabinet lineup to the king for endorsement within October. He is expected to select at most 35 cabinet members.
Prayuth vowed to safeguard national interests and work on national reconciliation, saying that many problems still remained to be tackled and many laws to be updated.
He also called for cooperation from all sectors of the society and insisted that all groups of people were invited to join the national reform.
It remains unsure whether Prayuth, who is due to retire from the army on Sept. 30, will resign as the army chief.
Thaksin Shinawatra, a former premier who is now living in self- exile, has reportedly asked his supporters to give Prayuth's interim government a chance to administer the country.