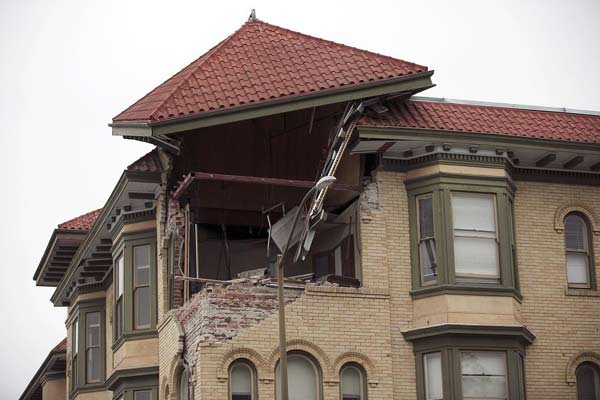 Damage to a downtown building is seen after an earthquake in Napa, California, Aug 24, 2014. The 6.0 earthquake rocked wine county north of San Francisco early Sunday, injuring dozens of people, damaging historical buildings, setting some homes on fire and causing power outages around the picturesque town of Napa. [Photo/Agencies]
Biggest quakes by magnitude in California
California, where a quake and fire devastated the city of San Francisco in 1906, once again showed it is earthquake country.
7.3, Landers, June 28, 1992, three deaths
7.2, Cape Mendocino, April 25, 1992
7.2 (estimate), Southeast of Mexicali, Mexico, April 4, 2010
7.2, Off coast of Northern California, June 14, 2005 More
SAN FRANCISCO - An earthquake with preliminary magnitude of 6.0 that hit northern California's Napa area early Sunday morning has left at least 89 injured, a number of buildings damaged and thousands without power, leading to a state of emergency in the area.
The quake, which occurred near southern Napa County's city of American Canyon, has left no one in this area in life-threatening conditions, Napa City officials said in a press conference Sunday morning.
Some historical buildings were severely damaged and around 100 gas leaks and some 30 water leaks were reported while multiple fires were caused, officials said, adding that the serious injuries were results of falling debris instead of fires.
Emergencies officials said the quake cut off power supply to at lease 64,000 people in Napa area and about half of them remained without power as of Sunday morning.
Nonetheless, the city remains "relative calm for an earthquake of this magnitude" with lots of businesses open as usual and no looting or violence reported, according to Napa police captain Steve Potter.
California Governor Jerry Brown has declared a state of emergency for the quake-hit area and ordered state agencies to help with quake response.
The quake was at a depth of 10.8 km and was felt in northern Californian city of San Francisco, around 64 km south of American Canyon. Referred as the South Napa earthquake by US Geological Survey, it is the largest earthquake in the Bay Area since the magnitude 6.9 Loma Prieta earthquake in 1989.