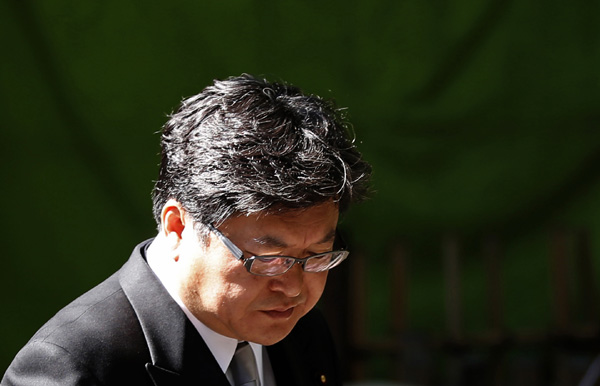 Kouichi Hagiuda, an aide to Abe and a lawmaker in the ruling Liberal Democratic Party, visits the Yasukuni Shrine in Tokyo August 15, 2014. [Photo/Agencies]
TOKYO - Japanese Prime Minister Shinzo Abe sent an offering to the notorious Yasukuni Shrine through his aide Kouichi Hagiuda on Friday on the 69th anniversary of Japan's surrender to the World War II.
Hagiuda told reporters after his visit to the shrine that the prime minister sent the offering as the president of Japan's ruling Liberal Democratic Party (LDP). Local reports said that Abe's avoiding to pay his respect this time aims to prepare for a meeting of the Asian-Pacific Economic Cooperation to be held in Beijing later this year, in which Abe wants to hold talks with Chinese leader.
Abe worshipped to the shrine last year in December on the first anniversary of his taking office and the Yasukuni visit triggered fierce criticisms worldwide, including Japan's key ally the United States, which said the move is "disappointing."
Earlier on Friday, two Japanese ministers of Abe's cabinet, namely Yoshitaka Shindo, Japanese internal affairs minister, and Chairman of Japan's National Public Safety commission Keiji Furuya, also visited the controversial shrine.
Shindo's visit came minutes later after Furuya's worship and the minister said his visit was a private behavior.
Meanwhile, Furuya said after his visit that it is reasonable for him, as a Japanese, to pay worship to the shrine that he called as a place not to whitewash Japan's wartime history.
"It's natural to pray for the souls of those who died for a country," Furuya was quoted as saying.

The state minister visited the shrine during its spring and autumn festivals since he became state minister of the Abe's Cabinet launched in 2012. He also paid his respect to the Yasukuni on Aug. 15 last year.
State Minister for Public Servant System Reform Tomomi Inada joined her associates of Shindo and Furuya to pay her respect to the shrine in the afternoon.
Shinjiro Koizumi, lower house lawmaker from the ruling LDP and son of former Prime Minister Junichiro Koizumi, also paid a visit to the controversial shrine Friday.
Also on Friday, a herd of about 80 Japanese lawmakers from a bipartisan group aims to promote Yasukuni visits also paid their homage to the shrine. The number of those who visited here on the anniversary last year was 102.