A Dutch company has been awarded a contract to search the southern Indian Ocean seabed for Malaysia Airlines Flight MH370.
The Joint Agency Coordination Center for the search said on Wednesday the hunt will be conducted by Fugro Survey.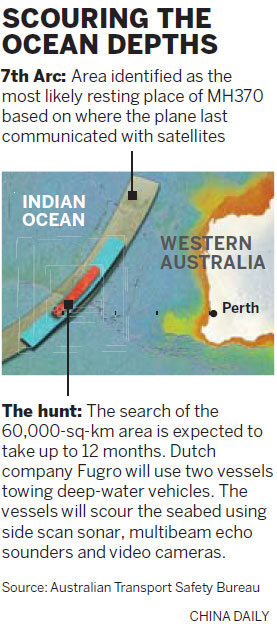 Australian Deputy Prime Minister Warren Truss said in a media release that the announcement was made by Australia, China and Malaysia.
Fugro will use two vessels towing deep-water vehicles in the search. The vessels will scour the seabed using side scan sonar, multibeam echo sounders and video cameras.
The search of the 60,000-sq-km area is expected to take up to 12 months, and the vessel Fugro Discovery is en route to the Australian city of Perth from Britain.
It is the second contract Fugro has won from the Australian government related to the search for the Boeing 777-200, which vanished on March 8 on a flight from Kuala Lumpur to Beijing with 239 people on board, 154 of them Chinese.
In June, the Australian Transport Safety Bureau contracted the company to make a deep-water survey in a search area in the southwest Indian Ocean.
Fugro Equator, the company's survey ship now gathering data on ocean depths in the search area, will be its second vessel in the deep-water hunt and will be mobilized when it completes its current work in mid-September.
The Malaysian government has committed four vessels to the joint search. The KD Mutiara, a naval survey ship, is due to arrive in late August to help with the deep-sea search. Two vessels equipped with side scan sonar and remotely operated vehicles will join the underwater search efforts being led by the Australian Transport Safety Bureau.
The Malaysian naval vessel KD Bunga Mas will continue to support the search, as it has since April.
The Chinese vessel Zhu Kezhen continues to work in the southern Indian Ocean, surveying the seabed. China has said the ship will remain in the search area until mid-September.
(China Daily 08/07/2014 page1)