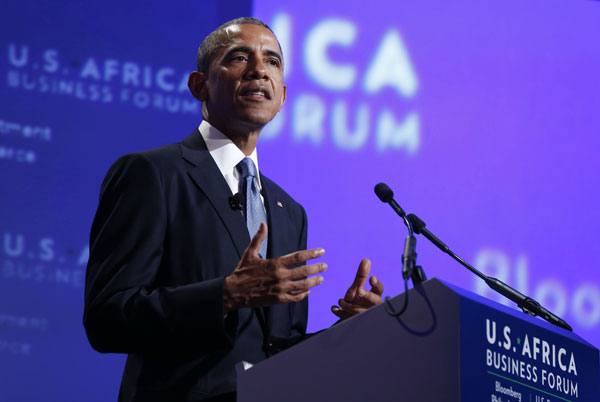 US President Barack Obama talks at the US-Africa Business Forum about strengthening trade and financial ties between the US and Africa in Washington, August 5, 2014. [Photo/Agencies]
WASHINGTON -- Over $30 billion commitments were announced at the first US-Africa summit to boost economic ties between the world's largest economy and the continent, said the White House on Tuesday.
President Barack Obama announced $7 billion in new financing to promote US exports to and investments in Africa under the Doing Business in Africa (DBIA) Campaign at Tuesday's US-Africa business forum during the summit, the White House said in a statement.
US companies also announced new deals on clean energy, aviation, banking, and construction worth more than 14 billion dollars.
The Power Africa initiative launched by Obama last year aiming to help African countries get affordable and sustainable power, has also got 12 billion dollars of new commitments from the private sector, the World Bank, and the Swedish government.
"Taken together, these new commitments amount to more than $33 billion, supporting economic growth across Africa and tens of thousands of US jobs," the White House said.
Obama also created a President's advisory council on DBIA Tuesday to encourage US companies to trade with and invest in Africa. The council will have no more than 15 members from the private sector, including small businesses.
About 50 African leaders have joined in the three-day summit which started Monday. The major focus of the summit is to boost bilateral trade and investment, strengthen security partnerships and to support a new generation of African leaders.