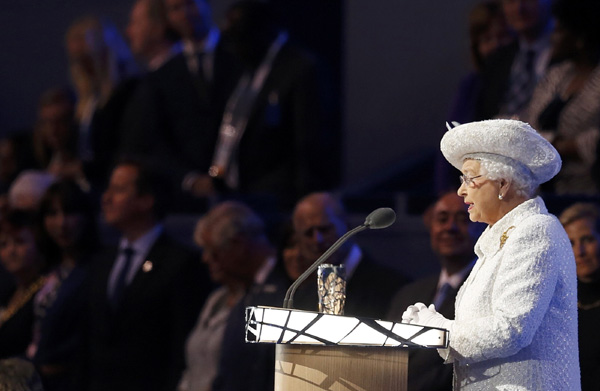 Britain's Queen Elizabeth opens the 2014 Commonwealth Games at Celtic Park in Glasgow, Scotland, July 23, 2014. [Photo/Agencies]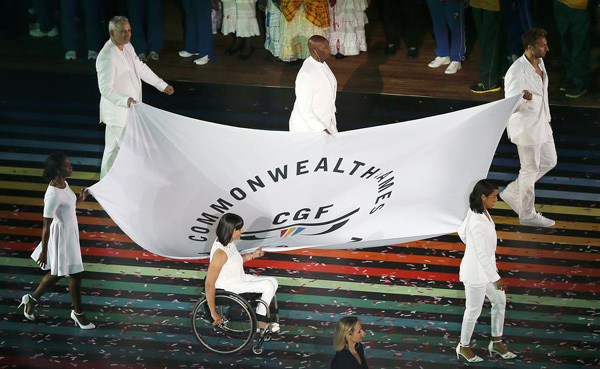 The Commonwealth flag is carried into the stadium during the opening of the 2014 Commonwealth Games at Celtic Park in Glasgow, Scotland, July 23, 2014. [Photo/Agencies]
GLASGOW - The Queen Elizabeth II on Wednesday night formally announced the opening of the 20th Commonwealth Games in Scotland's largest city of Glasgow.
Reading her message in the Queen's Baton to welcome the athletes at Celtic Park, the Queen stressed "the shared value and ambition" of the Commonwealth.
The final Queen's Baton relay was carried by Britain's six gold medal Olympian Chris Hoy, who grew up in Edinburgh, the capital of Scotland.
Earlier, the opening ceremony paid tribute to the 298 victims of the crashed Malaysia Airlines flight MH17, under the proposal of Scottish First Minister Alex Salmond, who welcomed the athletes to Scotland.
About 2,000 cast members including Scottish female singer Lulu, Susan Boyle and Scottish classical violinist Nicola Benedetti performed in a ceremony in a distinguished Scottish style, which entertained the audience at the 1892-built and full-occupied Celtic Park.
Joined by her husband the Duke of Edinburgh, Queen Elizabeth II entered the opening ceremony site in a Rolls-Royce car, followed by the audience's upstanding and singing of the British national anthem "God Save the Queen".
More than 4,500 athletes from 71 Commonwealth nations and territories paraded in a one-hour journey from the Athlete's Village in Dalmarnock in southeast of Glasgow, which is close to Celtic Park.
Guided by the Scottish Aberdeen Terrier led by a staff with the delegation's name on the dog's back, each delegation entered the opening ceremony in regional order.
As the previous hosts of the Commonwealth Games, India led the parade, which ended with the current hosts, Team Scotland with the flag bearer of Judo player Euan Burton.
The Games featuring 261 events in 17 sports in 11 days of competition begin on Thursday with diving to be held at the Royal Commonwealth Pool in Edinburgh.
The closing ceremony takes place on Aug 3 at Hampden Stadium, which has been transformed into an athletics venue with 44,000 seats during the Games.
The 2018 Commonwealth Games will be held in Gold Coast City, Queensland, Australia between April 4 to April 15.