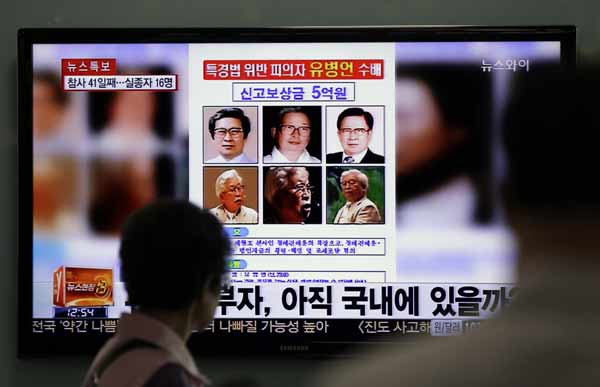 A woman watches a TV news program showing a reward poster for Yoo Byung-eun at the Seoul Train Station in Seoul, South Korea, on May 26, 2014. The country boosted the reward for tips about the mysterious billionaire to half-a-million dollars. Yoo is the patriarch of the family that owns the ferry that sank last month, police said. Lee Jin-man / Associated Press
SEOUL, South Korea - South Korean police said Tuesday that they have found a body of a fugitive billionaire businessman sought over April's ferry disaster that left more than 300 people dead or missing.
Police officer Wu Hyung-ho told a televised news conference Tuesday that the body was found at a site in southern South Korea on June 12. He said results of DNA and fingerprint tests showed they matched those of Yoo Byung-eun.
Wu said it is not known how Yoo died.
Authorities believe Yoo was the owner of the ferry and that his alleged corruption may have contributed to its sinking.
Police and prosecutors have seeking Yoo for months and had offered a $500,000 reward for tips about him.
Yoo, head of the now-defunct predecessor of the ferry's current operator, Chonghaejin, allegedly still controlled the company through a complex web of holding companies in which his children and close associates are large shareholders. The government offered a $100,000 bounty for Yoo's eldest son, and one of his daughters was arrested in France in May.
The predecessor company went bankrupt in the late 1990s but Yoo's family continued to operate ferry businesses under the names of other companies, including one that eventually became Chonghaejin.
The sinking, one of South Korea's deadliest disasters in decades, has caused an outpouring of national grief, and the country is undergoing national soul searching about public safety. About 100 days after the disaster, 294 dead bodies have been retrieved but 10 people are still missing.