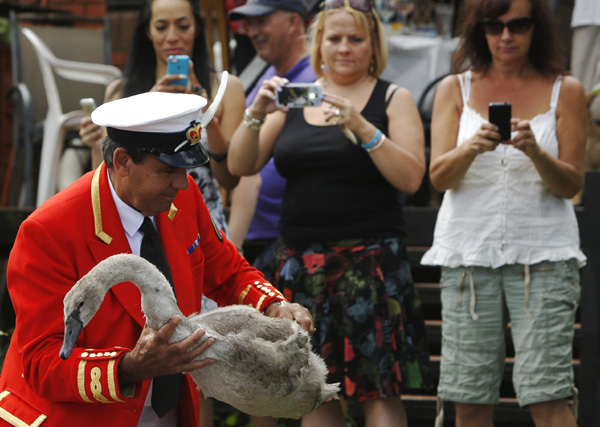 The Queen's Swan Marker David Barber carries a cygnet to inspect during the annual Swan Upping ceremony on the River Thames between Shepperton and Windsor in southern England July 14, 2014. [Photo/Agencies]
STAINES - It used to be a way of seeing how many swans were around that might eventually grace the royal banquet table, but these days the ancient English tradition of swan-upping, a census of the birds, is part of a conservation effort.
The Queen's Swan Uppers, who still wear traditional scarlet uniforms in echoes of medieval times, will be out in rowboats flying flags and pennants all this week on the River Thames near London.
Using their skiffs to close in on the cygnets, the bird catchers pull the birds from the water by their necks.
They are brought ashore to be weighed and their beaks measured before being placed safely back in the water, David Barber, the Queen's official Swan Marker, said on Monday, the first day of the census.
"Each family we come across there with the young cygnets we lift out of the water, measure them, weigh them, check them for any injuries and this is all completed by swan uppers in six traditional rowing skiffs," Barber said.
"The skiffs work round the swans, they work in closer and closer until they can actually pick them out of the water and take them to the shore," he said.
All unmarked mute swans still belong to the Queen in a tradition dating from the 12th century when the crown claimed ownership of swans found in open water.
Cygnets in particular were once regarded as a tasty dish at banquets and feasts, whereas today the swans are counted to protect their numbers.
Last year 107 cygnets were counted from 37 swan families.
Barber said that attacks by dangerous dogs could mean that the number of cygnets was down this year.
"Vandalism is quite serious so we have many shootings and dog attacks, that's why swans this year we feel have been a little bit less than other years," he said.
Another annual tradition is observed when, on passing Windsor Castle, the rowers stand to attention in their boat with oars raised and salute the Queen.
At the completion of the five-day long event, the Queen's Swan Marker will write a report on the number of swans found, this enables conservation methods to be used to protect the birds.