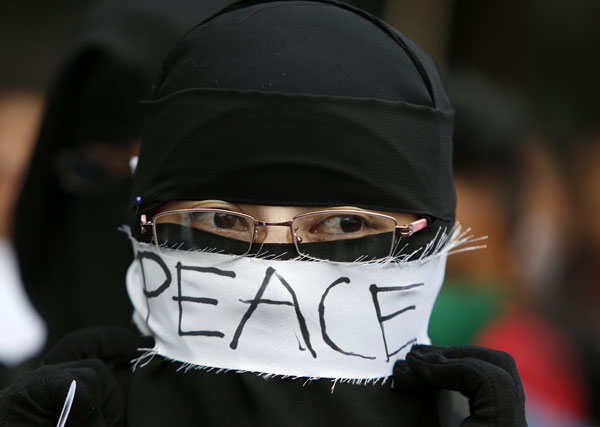 A Filipino Muslim woman, with the word "peace" over her mouth, takes part in a rally held by the Anak Mindanao (Children of Mindanao) Party List group outside the Israeli embassy in Taguig, Metro Manila, July 15, 2014. The rally called on the United Nations to help resolve the ongoing conflict between Israel and Palestinian militants in Gaza, and for both sides to agree to an immediate ceasefire, the Anak Mindanao party said in a statement. [Photo/Agencies]
GAZA -- Al-Qassam Brigades, the armed wing of Islamic Hamas movement, rejected early Tuesday an Egyptian initiative on ceasing fire with Israel, saying there would be no ceasefire before reaching an agreement, according to Hamas spokesman.
"We reject any ceasefire before reaching a truce agreement," Sami Abu Zuhri, Hamas spokesman in Gaza said in an emailed press statement, adding that Hamas is still under occupation and resistance is the right of their people to defend themselves.
Egypt presented a five-point initiative for a ceasefire between Israel and Hamas in the Gaza Strip on Monday, calling for a ceasefire on the ground, and then inviting the warring parties to go to Cairo for a detailed agreement.
But Abu Zuhri said they had not received any official initiative from any side. "If the published text of this initiative is correct, we only say that this is an initiative of subordination and submission, al-Qassam Brigades totally and completely rejects it," said the statement.
Since July 8, Israel has been engaged in a large-scale aerial operation against the Gaza Strip, where Israeli war jets have carried out hundreds of intensive airstrikes on targets that belong to Hamas and other militant groups in the coastal enclave.
The Gaza-based health ministry said the operation has killed 187 people, wounded 1,390 others, and destroyed more than 250 houses.