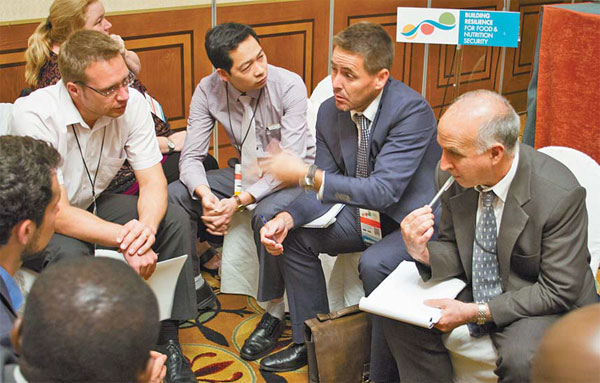 Participants at the IFPRI 2020 Conference on Building Resilience for Food and Nutrition Security. Provided to China Daily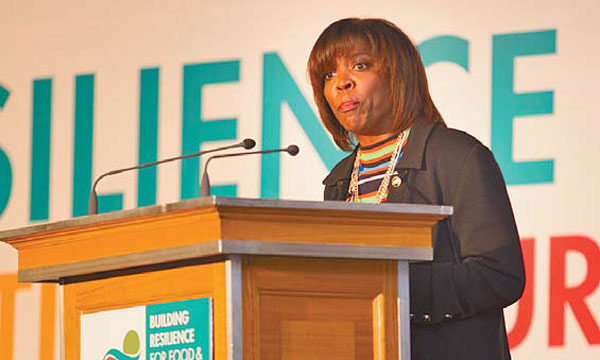 Ertharin Cousin, executive director of the UN World Food Program, makes a keynote address.
Local processing would give Africa wherewithal to feed itself, experts say
Xu Shouzhi and his 12 colleagues are typical of many groups of Chinese workers operating across Africa today.
The 63-year old from Qingdao, in eastern Shandong province, is in Maputo, the capital of Mozambique, to build a cashew nut processing factory.
"It is exactly like our factory at home," he says.
"All you need to do is put cashews into this tunnel and they will come out cooked at the other end, and then they can be canned," he says.
He takes out a blueprint for the site and points to it proudly with his ballpoint pen.
"The whole cooking process is done by microwave - it's the very latest technology, and it comes straight from China."
Cashews remain a major agricultural export of Mozambique, and Xu's sparkling new production line allows the nuts to be cooked, canned and exported from there, instead of the cashew kernels having to be processed abroad.
According to Christian Mersmann, managing director of the Global Donor Platform for Rural Development, this emphasis on developing local production is much preferred to straight raw food exports from Africa. Along with local jobs and income, it also delivers what is still considered one Africa's key needs when it comes to its agricultural sector and nutritional security.
Mersmann's German-based organization has become a mainstream platform for donors and partners to exchange knowledge and coordinate efforts to improve the quality of global rural development.
During the recent "Building Resilience for Food & Nutrition Security" conference in Addis Ababa, Ethiopia, he told China Daily that Africa remains the most fragile continent when it comes to food security.
Organized by the US-based International Food Policy Research Institute - which since 1975 has sought what it calls "sustainable solutions for ending hunger and poverty" - the three-day event attracted more than 800 policymakers, practitioners and scholars to discuss how Africa's food and nutrition security can be strengthened.
In 2012, the United Nations noted that 28 of Africa's 54 countries faced serious food security issues.
Its figures showed that in 2010, the continent, with a population of over a billion people, accounted for just 165 million tons of grain, or 6.64 percent of the world's total.
Historically, many have blamed Africa's natural conditions, specifically drought, salty soil and erosion, for its food insecurity, but Mersmann says much deeper economic problems across the vast continent also persist.
The basic issue remains that Africa relies on agriculture as the main pillar of its economy, but margins are still low from its agricultural exports, and countries cannot buy sufficient food in return to feed their own people.
In short, its primary agricultural products, he adds, remain at the lowest end of the global value chain.
"Currently Africa is exporting coffee beans, fruit and lumber, for instance, to people globally, but its processing profits are being earned in Europe, Japan, America and China," he says.
A 500g pack of Ethiopian coffee beans produced by TO.MO.CA - an abbreviation of the Italian name Torrefazione Moderna Caf - the leading coffee company based in Addis Ababa, costs between 96 and 150 birr ($4.90-$7.65), even in the most expensive international hotel near the conference.
But the price for the same size package of coffee powder is $19.99, plus a shipping fee, on Amazon.com in the United States, or 160 yuan ($25.70) in retail outlets in China.
Here is a product made by one of Ethiopia's best-known businesses, yet only a fraction of its total value is going back into the hands of Ethiopians.
Not only is Western capital behind many of the local coffee farms, much of the profit is being earned by producing the finished product overseas.
The same happens with cashews picked in Mozambique, and wood produced in many sub-Saharan African countries, says Mersmann. He says what Africa needs is a bigger emphasis on what he calls "light, smart industrialization". That way, a lot more is invested in processing of local raw materials, which in turn earn far higher profits as exports.
"They should export more canned coffee instead of coffee beans, ketchup instead of tomatoes, and make the wood into tables instead of selling logs," he says. "That would move local production one or two steps further along the global value chain."
And that's exactly what China has been helping countries across the continent to achieve.
After building its production line in Mozambique, which is expected to be finished within a month, Xu Shouzhi says he and his colleagues from Qingdao Brilliant Machinery already have plans to bring their Chinese factory technology and know-how to other African countries.
Government estimates suggest there are around 350,000 Chinese production experts like Xu who have worked on or are working in African factories that were built lock, stock and barrel in China and assembled in Africa.
According to Ethiopian Airlines, over 70 percent of the passengers boarding its daily flight between Beijing and Addis Ababa are Chinese, the majority employed in light industrial construction projects.
A report from AidData - a program run by the Washington-based Center for Global Development which collects data on more than $5.5 trillion in development financing - showed that China helped Africa on 1,673 building projects between 2000 and 2011, with the total volume of aid exceeding $75 billion. They involved 51 of the continent's 54 countries.
In addition to the factories themselves, China has also played a key role in helping build the infrastructure needed to ship those finished goods.
According to Professor Lv Kaiyu from the Institute of Agricultural Economics and Development at the Chinese Institute of Social Sciences, economic underdevelopment has curbed Africa's infrastructure program, in turn worsening the food security problem by preventing efficient distribution.
He says that Africa still benefits from just 85,000 km of railway line, or 7 percent of the world's total, in a land area that covers 20.4 percent of the world's surface.
Ertharin Cousin, executive director of the UN World Food Program, recently praised China for its own agricultural achievements in the past decades, and its efforts at bringing its experiences to Africa.
"Fifty years ago China used to be our biggest program," she said, but today it is what she calls Africa's major helper.
China first started offering aid to Africa in the 1970s when it itself was in challenging economic times, and that process has accelerated considerably.
In 2011 it announced an additional 353 million yuan ($56.7m) of grain aid to African countries hit by drought, the biggest sum since the 1970s. A year later, the Chinese government wrote off 25.6 billion yuan of African debt.
According to Lu Mai, secretary general of the China Development Research Fund, solving Africa's future food security needs to be a priority but it cannot rely on foreign aid forever.
He says China and Chinese enterprises are right to view the continent as offering massive light industrial potential given it has six of the world's top 10 fastest growing economies, while 80 percent of its land is undeveloped.
He adds that 30 years ago, China was as underdeveloped as most African countries are today.
But he insists that as the world's biggest developing country and a rising power, China has a responsibility to help its poorer brothers, and opportunities in infrastructure and light industry remain the most attractive way of doing that.
In the center of cities such as Addis Ababa and Maputo, he says it is becoming harder not to drive without being on roads made by China, and already local residents recognize the buildings built by Chinese construction firms.
But he also points out that China needs to strengthen its contribution, too, to local culture, to make this development truly sustainable.
Lu says Africa is developing at a time when its global ecological environment is already under severe pressure, so both China and the West should be willing to help by passing on the lessons they learned during their own development, particularly when it comes to the effect on the environment and pollution.
There also is an urgent need for China to take the opportunity to help build a well-educated African population that can be the world's quality labor force of the future, which will in turn promote China's cultural influence in Africa, he says.
"If China can build more schools and send more teachers to Africa, it can gain more influence in the long run, too, which is mutually beneficial."
zhangzhouxiang@chinadaily.com.cn
(China Daily Africa Weekly 07/11/2014 page8)