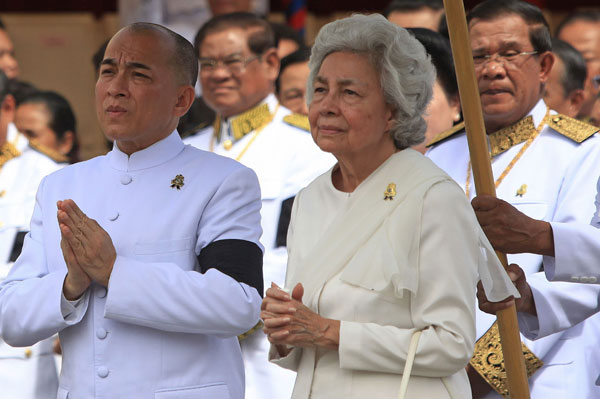 Cambodia's King Norodom Sihamoni (L) and Queen Mother Norodom Monineath Sihanouk attend a ceremony in Phnom Penh July 11, 2014. The three-day royal procession to take the remains of late Cambodian King Norodom Sihanouk from the cremation site to the Royal Palace began on Thursday. [Photo/Agencies]
PHNOM PENH - Thousands of people attended a religious procession on Friday morning to enshrine the remains of Cambodia's most revered King Father Norodom Sihanouk, who died of illness in Beijing in 2012.
Three diamond-studded gold and marble urns containing Sihanouk' s ashes were moved from an altar in the Royal Palace to be placed inside a monument on a golden mythological bird-shaped float and marched through streets around the palace.
Meanwhile, Buddhist monks chanted prayers as the 101-gun artilleries salute were fired into the sky.
Sihanouk's ashes were marched through streets around the Royal Palace as part of an elaborate three-day ceremony which began Thursday, before being interred in a stupa in the opulent Silver Pagoda at the compound of the Royal Palace on Saturday, their final resting place.
Sihanouk's wife Queen Mother Norodom Monineath and his son, current King Norodom Sihamoni, as well as Prime Minister Hun Sen, his cabinet members, and foreign diplomats, were present at the parade rite.
Deputy Governor of Phnom Penh Municipality Khuong Sreng said, "Approximately 20,000 people joined the procession of the late king's remains by standing along road sides."
National Police spokesman Kirt Chantharith said some 7,000 police, military police and soldiers were assigned to attend the march, which was live broadcast on local TV channels.
To mark the interment ceremony, King Norodom Sihamoni had signed a royal decree to release or reduce jail terms for 335 prisoners, while Prime Minister Hun Sen allowed all civil servants and private company employees to take a day-off.
According to schedule, in line with his wishes, Sihanouk's cremated remains will be enshrined in a stupa in the Silver Pagoda in the Royal Palace on Saturday.
On Thursday evening, approximately 3,000 Buddhist monks gathered in front of the Royal Palace in meditation and prayers to mark the start of the interment ceremony.
King Father Norodom Sihanouk died of illness at the age of 90 in Beijing on October 15, 2012. The late king requested that all of his ashes be interred in the Silver Pagoda alongside the remains of his favorite daughter, Princess Kantha Bopha, who died of leukemia in 1952 at the age of 4.
The late monarch reigned over Cambodia from 1941 to 1955 and again from 1993 until his voluntary abdication in 2004 in favor of his son, King Norodom Sihamoni.
He was a presence through decades of political and social turmoil in Cambodia, despite long periods of exile overseas.
Sihanouk was named as the King Father of Independence, Territorial Integrity and National Unity. He led Cambodia to gain full independence and freedom from the French protectorate in 1953.