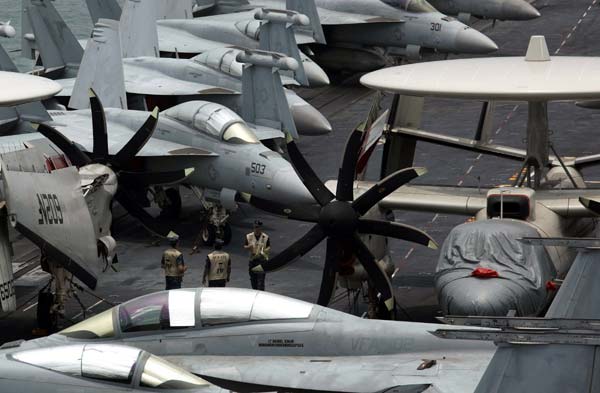 US Navy servicemen walk on the deck of the US aircraft carrier USS George Washington during its port call in the Hong Kong waters June 16, 2014.[Photo/Agencies]
SEOUL - The US Navy's aircraft carrier USS George Washington will make a five-day port call to South Korea's southern port city of Busan from Friday and carry out a joint naval exercise with South Korea and Japan.
The US Forces Korea (USFK) said in a statement Wednesday that the 97,000-ton super-carrier and associated ships from the George Washington Strike Group will visit Busan from July 11 to 15 as part of a routine port call on the Korean Peninsula.
The George Washington Strike Group, which belongs to the US 7th Fleet, has about 6,000 sailors assigned to its ships, including embarked battle staff, a carrier air wing and ship's company personnel, the USFK said.
It said that US Navy personnel will have an opportunity to engage with South Korean navy counterparts during the visit, while participating in cultural exchanges and community relations events with local citizens.
The nuclear-powered super-carrier, forward-deployed to the Yokosuka Naval Base in Japan, is capable of loading some 70 units of strike fighter Super Hornet, anti-submarine helicopter Sea Hawk and early warning aircraft Hawk Eye and so forth.
It was commissioned in 1992 and sent to the Japanese naval base in 2008.
From July 16 to 21, the USS George Washington will reportedly stage a joint maritime exercise with South Korean battleships in southern and southwestern waters of the Korean Peninsula.
The South Korean Navy will mobilize two Aegis destroyers, while the US side will dispatch the aircraft carrier, two cruisers and an Aegis destroyer to conduct various operations such as maritime maneuver, airborne transport and intercepting airplanes.
After the six-day drills, South Korea, the United States and Japan will hold a joint naval exercise, called Search and Rescue Exercise or SAREX, from July 21 to 22 in international waters south of South Korea's southern resort island of Jeju.
The exercise will mobilize the USS George Washington, three ships and an aircraft from the US, two ships and an aircraft from South Korea, and a ship and an aircraft from Japan.
Earlier on Wednesday, the Democratic People's Republic of Korea (DPRK) fired two short-range ballistic missiles, presumed to be Scud, from a site in the DPRK's western Hwanghae Province across its territory toward its eastern waters.
The missiles, which flew some 500 km, are capable of striking the entire territory of South Korea.
It was the DPRK's 13th launch of missiles or artillery shells this year. The DPRK has launched more than 90 short- and medium- range missiles and shells since Feb. 21.
It also marked the DPRK's fifth launch of ballistic missiles this year. Pyongyang test-fired a total of 10 Scud and Rodong missiles in 2014.
Tensions were feared to escalate on the Korean Peninsula. South Korea refused a proposal of the DPRK to stop all military hostilities on July 1, a day after Pyongyang called for Seoul to scrap this year's Ulchi Freedom Guardian military exercise between Seoul and Washington slated for August.
On July 2, the DPRK fired two short-range projectiles into its east waters in protest against the refusal. Pyongyang launched two Scud missiles, which flew some 500 km, into its eastern waters on June 29 after firing three KN-09 artillery shells with a range of 190 km on June 26.
On July 7, the DPRK called for ending reckless hostility and confrontation between the two Koreas, asking South Korea to stop all kinds of DPRK-target military exercises it plans to conduct with "outsiders."
Later that day, South Korea made a response to the call, saying the DPRK should stop unreasonable claims that its nuclear weapons program will guarantee peace and prosperity of the Korean Peninsula, actually denying the call once again.
As part of a conciliatory gesture, the DPRK said it will send its cheering squad to the upcoming Asian Games, which will be held in South Korea's western port city of Incheon from Sept. 19 to Oct. 4.