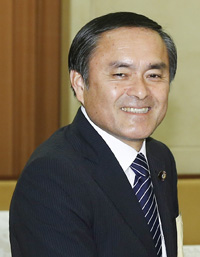 Tadatomo Yoshida, leader of Japan's Social Democratic Party
For the second time in less than two months, top political adviser Yu Zhengsheng met with a Japanese delegation, a move observers said emphasizes China's and Japan's efforts to mend ties that have recently experienced severe turbulence.
On Tuesday, Yu met with delegates from Japan's Social Democratic Party, the opposition party's first meeting with the Communist Party of China in Beijing in a decade.
Yu said the key to improving ties is to tackle tensions over both the Diaoyu Islands and Tokyo's acknowledgment of its past militarism with sincerity and actions that will lead to tangible results.
Yu said he welcomed the visit during "a very difficult time" for bilateral relations and said China appreciates the SDP's political courage and determination to improve ties. He added that China is willing to continue party-to-party exchanges for bilateral relations and regional stability.
SDP leader Tadatomo Yoshida said his party would adhere to the Murayama Statement and bear in mind historical lessons.
The Murayama Statement is an apology issued in 1995 by then-prime minister Tomiichi Murayama to Japan's Asian neighbors who were victims of the country's colonial rule and wartime aggression.
In December, Japanese Prime Minister Shinzo Abe infuriated the region by visiting the Yasukuni Shrine, which honors 14 convicted class-A war criminals.
Lu Yaodong, an expert on Japanese studies at the Chinese Academy of Social Sciences, said Beijing's meeting with the SDP would strike a chord in Japan with opponents of Abe's attempts to boost the role of the Japanese military and allow it to be deployed overseas, something currently prohibited by Japan's pacifist Constitution.
"Even though the SDP is not a major opposition political force, it has been a stalwart supporter of pacifism while the Abe administration considers revising Japan's Constitution and the ban on collective self-defense," said Lu. "Such contacts are conducive to ties and regional peace."
The three-day visit, which began on Monday, is one of a number of Japanese political and economic delegations that have visited China in recent months.
In May, Yu held talks with a Japanese delegation led by Takeshi Noda, a veteran lawmaker from the ruling Liberal Democratic Party.
According to the Kyodo News Agency, a large delegation of Japanese business leaders will make a six-day visit to China in September to discuss the energy sector and the environment.
Yuji Miyamoto, former Japanese ambassador to China, said these meetings help to improve public sentiment in both countries.
"But other things must also be done, including fostering more contacts at the grassroots level and more people-to-people exchanges. Students and tourists, please come to Japan,'' he said in Beijing on Sunday.
zhaoshengnan@chinadaily.com.cn