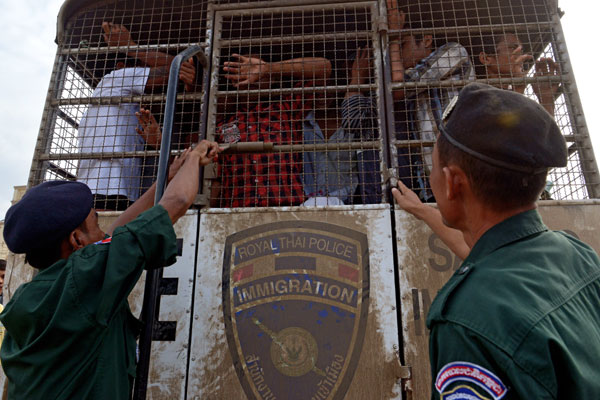 Cambodian police officials open the door of a truck transporting migrant workers across the border, upon its arrival in Poipet on the Thai-Cambodian border, in the northeastern Cambodian province of Banteay Meanchey on Tuesday. Tang Chhin Sothy / Agence France-Presse


Two governments agree to set up a hotline on labor issues, official says
Thailand and Cambodia agreed on Tuesday to quash "rumors" of a crackdown against illegal migrant workers by the new Thai government after the exodus of nearly 180,000 Cambodian laborers.
The number of laborers fleeing home soared after the Thai military authorities warned last week that illegal foreign workers face arrest and deportation.
The government has since insisted there is no "crackdown" and blamed false rumors for the exodus.
The International Organization for Migration has previously estimated that around 180,000 undocumented Cambodian workers live in Thailand, so it is unclear exactly how many still remain.
Migrants from neighboring Cambodia, Laos and Myanmar play a key role in Thai industries such as seafood, agriculture and construction, but they often lack work permits.
"We need to work closely together to allay fear among the Cambodian laborers in Thailand that it is not the policy of the current administration to crack down on laborers regardless of their status," said the Cambodian ambassador to Thailand, Eat Sophea.
She also dismissed rumors of the shooting and abuse of Cambodian migrants by Thai authorities - among the factors believed to be triggering workers to flee.
"The reports about shootings, the reports about other abuses, are rumors and are not true; it's been taken out of context. We agreed to work together in order to clarify any issues," Eat said.
During talks with Thai Foreign Ministry permanent secretary Sihasak Phuangketkeow on Tuesday, the two countries also agreed to set up a hotline on labor issues.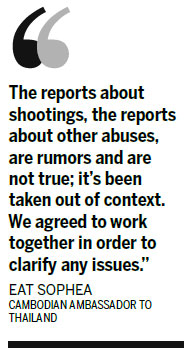 "We agreed to set up some form of a hotline ... to communicate requests for clarification for assistance to facilitate those laborers who wish to return to Cambodia," the Cambodian ambassador said.
At the main border crossing between the two countries in Poipet - a bustling town that is home to several large businesses, casinos and hotels - a few hundred Cambodian migrants arrived in Thai military trucks and police cars on Tuesday morning.
The number of Cambodians returning from Thailand into Poipet, the main Thai-Cambodian border crossing, in just over a week reached 157,000 by this morning, said Kor Sam Saroeut, governor of the northwestern province of Banteay Meanchey where the checkpoint is based.
Around 20,000 others have crossed the border at O'Smach, a checkpoint some 250 km northeast of Poipet, according to the governor and a senior Cambodian police official.
Thailand's military authorities have denied forcing Cambodian workers out of the country after issuing a warning last week that it viewed illegal migrants as a "threat".
The Foreign Ministry has said authorities attach "great importance" to the role migrant workers play in Thailand's economy.
In the past Thai authorities have turned a blind eye to illegal laborers because they were needed when the economy was booming.
But now the country is on the verge of recession after the economy contracted 2.1 percent in the first three months.