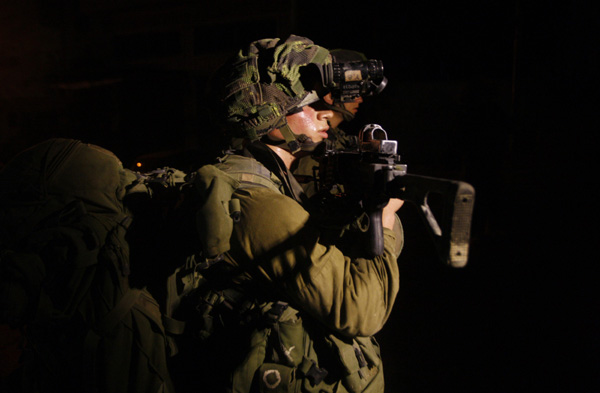 An Israeli soldier stands guard in the West Bank city of Hebron June 15, 2014. Israel sent more troops to the occupied West Bank on Saturday to step up searches for three Israeli teenagers believed to have been abducted by Palestinians, with a military source saying it was not known if they were dead or alive. [Photo/Agencies]
JERUSALEM - Israeli army arrested about 80 Palestinians in the occupied West Bank on Sunday morning as part of its efforts to find three abducted Israeli teenagers, the military said in a statement.
The 80 Palestinians, among them top members of Hamas, and members of the group's Legislative Council, were arrested in and around Hebron and across the West Bank in a joint military, police and Shin Bet operation, the military said.
Meanwhile, the Israeli military imposed closures on Palestinian cities in the West Bank, centered on the city of Hebron and its environs beginning at midnight on Sunday, and a closure of Bethlehem went into effect hours later.
A senior military source said that the closures and arrests aimed at strengthening the efforts to collect intelligence on the whereabouts of the three Jewish teens. The current massive manhunt involves more than 2,000 military forces.
The three kidnapped yeshiva students, two of them aged 16 and the other 19, who attended a religious high school in the West Bank, were kidnapped by a terrorist organization when they were returning to their homes for the weekend Thursday night.