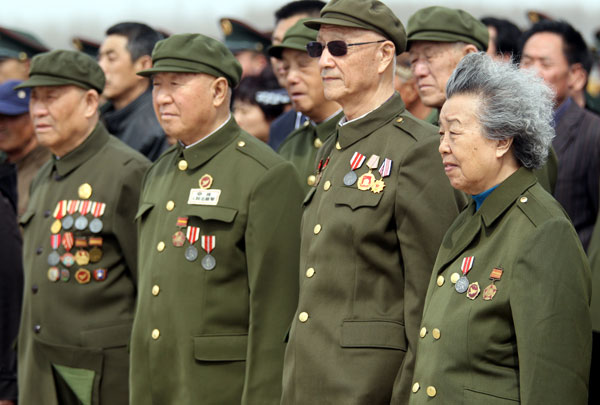 Chinese People's Volunteers veterans pay tribute to their comrades who were among the 183,108 Chinese soldiers who died in the Korean War. Zhang Wei / China Daily
In the early morning, the ROK side held a handover ceremony at the Incheon airport before the remains were sent back.
Chinese officials thanked Seoul for its cooperation as well as the goodwill delivered by the ROK people, said Zou Ming, a senior official from the Chinese Civil Affairs Ministry.
"The repatriation took place as the two nations agreed to work together to improve relations," Zou said. "We have agreed to establish a system based on this process to prepare the repatriation of Chinese war dead in the future."
Baek Seung-joo, ROK vice-defense minister, said repatriation of the Chinese remains will heal the historical trauma between the two nations and serve as a new milestone for mutual prosperity, Yonhap news agency reported.
The ROK began to exhume the remains in late December, after working-level officials of both China and the ROK reached an agreement to repatriate the remains of former CPV soldiers buried at a cemetery in Paju, just south of the demilitarized zone that separates the ROK and the DPRK.
Most remains had been recovered from front-line areas in Gangwon province, where fierce battles took place during the conflict, Yonhap said.
On March 17, the Chinese and ROK sides casketed the remains and held a memorial ceremony.
The decision to return the remains is "very good", said 81-year-old Yang Zhichun, a CPV soldier who served in the war in 1951.
"Just like fallen leaves return to the roots, they should be sent back to their home," Yang said.
Chen Shan, 86, who transported war materials during the war, said, "When they are home, they will see that their sacrifices were so valuable, and that their relatives and fellow Chinese are now leading prosperous and peaceful lives."
Kim Seoung-youl, a former ROK soldier and veteran of the war, said he had to serve in the war as a young student.
"I have experienced the cruelty of war and the deep wounds it has brought to the people. We should cherish our lives and the peace nowadays," he said.
"The dead CPV soldiers have slept in a foreign county for 60 years. The return of their remains can somehow console their souls. We hope that the tragic period in history will not repeat in the future," said Kim Hyung-muk, an ROK resident.