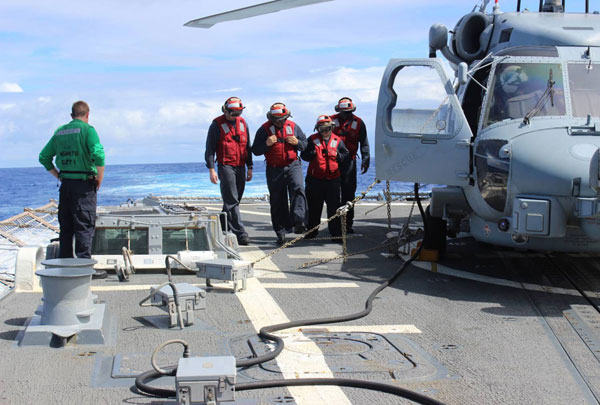 Sailors inspect the flight deck of the Arleigh Burke-class destroyer USS Kidd in this U.S. Navy handout picture taken March 16, 2014. The Kidd will end its search for the missing Malaysian Airlines flight MH370 in a few days, according to the US Defense Department.[Photo/Agencies]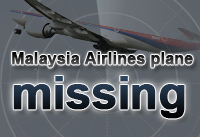 Passengers' and their nationalities:
Chinese 154 
Malaysia 38
India 5
Indonesia 7
Australia 6
France 4
USA 3 
New Zealand 2
Ukraine 2
Canada 2
Russian 1
Italy 1
Netherlands 1
Austrian 1
WASHINGTON - A US Navy vessel has been detached from the multinational massive search efforts of a missing Malaysia Airlines plane, the US Navy's 7th Fleet confirmed on Monday.
In an emailed statement, the US Navy's 7th Fleet confirmed that the USS Kidd, an Arleigh Burke-class guided-missile destroyer, and its MH-60R helicopters have completed their search of the Andaman Sea and have been detached from the search efforts as of March 18.

No debris or wreckage associated with an aircraft was found during the search, the statement said.
"With the search area expanding into the southern Indian Ocean, long range patrol aircraft such as the P-8A Poseidon and P-3C Orion are more suited to the current SAR mission," said the statement.
"Covering up to 15,000 square miles in one 9-hour flight, the P-8 and P-3 can search larger areas with their advanced surface search radars and electro-optical sensors as well as fly low for visual identification when needed."
The decision was made in consultation with the government of Malaysia, it said.
No trace of the Beijing-bound Malaysia Airlines Flight MH370 has been found since it vanished on March 8 with 239 people aboard.