Meeting with Obama offers chance for both sides to boost defense ties
Japan's prime minister-designate Shinzo Abe confirmed on Tuesday he will meet US President Barack Obama during his first official visit abroad in January.
At the meeting, Abe will call for a tighter bilateral alliance to maintain a regional "power balance".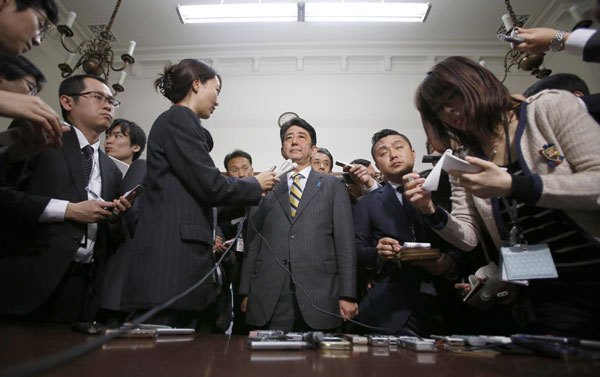 Japan's conservative Liberal Democratic Party's leader and next Prime Minister Shinzo Abe speaks to the media at the parliament in Tokyo on Tuesday. Abe said he has asked Bank of Japan Governor Masaaki Shirakawa to consider establishing a 2 percent inflation goal. [Photo/Agencies]
Observers said the landslide victory by Abe's Liberal Democratic Party in Sunday's general election has given Japan and the US a chance to boost diplomatic and defense cooperation to guard their respective interests in the Asia-Pacific region.
Abe said during a meeting with Japan's powerful business lobby, the Japan Business Federation, the two leaders will exchange views on issues of common concern and other international affairs.
The hawkish LDP leader spoke to Obama earlier in the day, and mentioned China's rise as well as the "increasingly serious security environment" in the East Asia region, Japan's Yomiuri Shimbun newspaper reported.
Abe, due to take over as prime minister on Dec 26, told Obama that Japan is willing to shoulder the duty of avoiding a breakdown in the "power balance" in the Asia-Pacific region.
Yuan Peng, an expert on US studies at the China Institutes of Contemporary International Relations, said Abe's signals were sent in the context of the Obama administration seeking "rebalancing" in the Asia-Pacific region.
LDP administrations' ties with Washington have been traditionally closer than those of the outgoing Democratic Party of Japan's cabinet, Yuan said.
China surpassed Japan in annual GDP growth in 2010 to become the second-largest economy globally and top in East Asia, an event viewed as "breaking the long-lasting order led by Washington and Tokyo" in the Asia-Pacific region, Yuan said.
Special Coverage: