Low turnout among voters reflects disillusionment with Japan's policies
Japanese Prime Minister Yoshihiko Noda on Sunday conceded his party was defeated in the general election and said he was stepping down as leader of the Democratic Party of Japan.
"I will resign as the head of the DPJ because I take this result seriously," he told a news conference. "I want to deeply apologize as I could not produce results."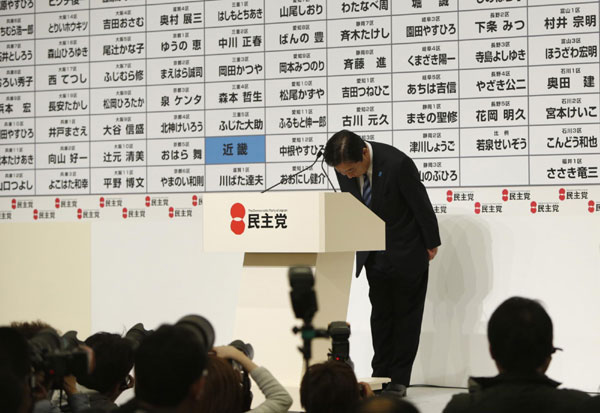 Japan's Prime Minister Yoshihiko Noda, who is also the leader of the Democratic Party of Japan (DPJ), bows as he leaves a news conference at his party's election headquarters in Tokyo December 16, 2012. Japan's conservative Liberal Democratic Party (LDP) surged back to power in an election on Sunday just three years after a devastating defeat. [Photo/Agencies] 
Tokyo was quiet on Sunday when the candidates for Japan's House of Representatives put away their loudspeakers. Many of them had almost lost their voices by the time voters headed for the polls.
Newspaper and TV exit polls previously showed that the opposition Liberal Democratic Party was sure to win and, with its long-time ally New Komeito, achieve the two-thirds majority in the 480-seat chamber needed to override decisions by the upper house, in which no single party has a majority.
But Noda was re-elected to the lower house. He fought tooth and nail for his party until Sunday morning when he cast a vote in Hunabashi, Chiba. Noda had double candidacy for Chiba's 4th single-seat constituency and one of Tokyo's proportional presentation constituencies.
The LDP dominated the election from the start in about 180 constituencies.
A total of 1,504 candidates vied for the 480 seats in the lower house — 300 allocated to single-seat constituencies and 180 in 11 proportional representation blocs.
"Chaotic" was the catchword for Sunday's election, in which a record 12 parties fought at close quarters.
As a result, a motley collection of campaign manifestos confused voters.
Japanese voters are so disappointed with their country's policies that they showed little interest in the election.
Voter turnout was 42 percent by 6 pm on Sunday, down 7 percentage points from the previous 2009 poll, Japan's Ministry of Internal Affairs and Communications said.
Hayashiguchi Yuriko, a 39-year-old housewife, voted on Sunday for a Your Party candidate in a single-seat constituency and a Social Democratic Party of Japan candidate in the proportional representation constituency of Chiyoda-Ku, Tokyo.
"I choose two different parties for the hope of a balance of power in this country," she said at a polling station.
Special coverage: