A 94-year-old man who cashed in his funeral savings to use as an election deposit was out canvassing for votes on Friday, just two days ahead of Japan's general election.
Ryokichi Kawashima, the oldest candidate in the race for the lower house this Sunday, says he felt he had to get involved in politics to stop the younger generation making such a mess of things.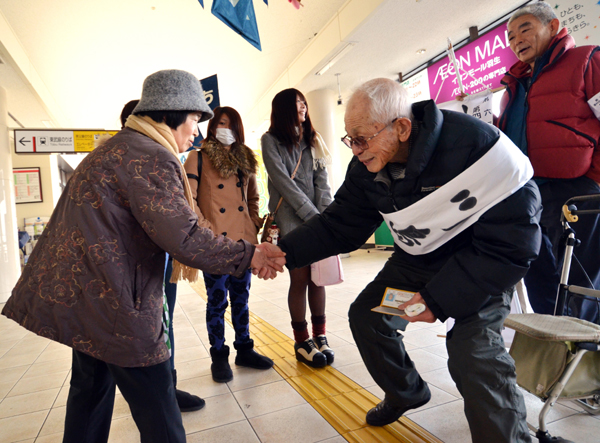 Ryokichi Kawashima, 94, a candidate for Sunday's general election, shakes hands with a supporter in Hanyu city, in Saitama prefecture, north of Tokyo, on Friday. [Photo/Agencies]
"I'm running on behalf of the weak," Kawashima, one of 1,504 candidates vying for 480 seats in the House of Representatives, said in Hanyu, north of Tokyo, on Friday.
He said he had been motivated to come out of retirement by worries over right-leaning candidates such as former conservative prime minister Shinzo Abe, 58, and former Tokyo governor Shintaro Ishihara, who is 80.
"They are talking about transforming the Self-Defense Forces into a full-fledged 'armed forces'. If these people take office, Japan will become a country that easily deploys troops," Kawashima said as he canvassed for votes.
"We surrendered unconditionally in the war. I am worried about what Japan has become," said the nonagenarian, a veteran of World War II.
Kawashima, who has a shock of white hair and uses a walking frame, withdrew 3 million yen ($36,000) from his savings for his election deposit.
"I've saved my pension money as expenses for my own funeral," said Kawashima, who lives alone.
"Honestly speaking, I may not be able to win, but I want to state my case."
Kawashima's campaign has been a low-budget affair - he made the sash bearing his name that candidates customarily wear - but he has done his best to engage with voters just a fraction of his age.
On Friday he talked to three 20-year-old women at the train station, telling them Japan had become too unequal.
"Our constitution guarantees that everyone has the right to a minimum standard of living, but the gap between the rich and poor is widening," he said.
Kawashima says his eyesight and mind are both still sharp for his battle against candidates from established political parties.
Japan has one of the world's oldest populations, with almost a quarter of its 128 million people over 60.
That figure is expected to rise to 40 percent within the next half century.
Opinion polls published on Friday suggest that the establishment Liberal Democratic Party, which draws its support mainly from the aging countryside, is on course for an easy victory.
Commentators say the voter profile is heavily skewed - fewer than half of eligible voters in their 20s went to polling stations at the last election, compared with nearly 85 percent of electors aged in their 60s.
The youngest candidate in Sunday's poll is Kazuya Aoki, a former aide to a member of parliament. He turns 25, the minimum age for a member of parliament, on Saturday.
AFP