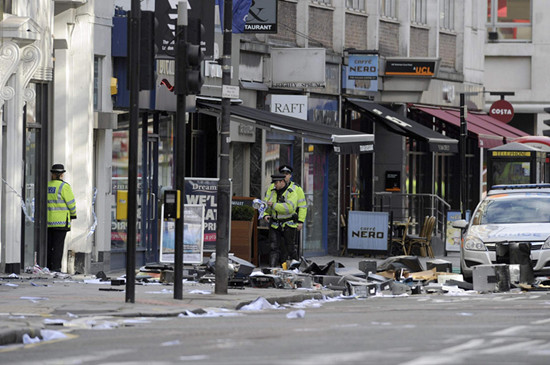 Police officers stand near office equipment thrown from an office window in Tottenham Court Road in central London April 27, 2012. [Photo/Agencies]
LONDON - The man seizing a building in central London was arrested and the situation was over peacefully, British Metropolitan Police said on Friday.
A 50-year-old man named Michael Green took the HGV (heavy goods vehicle) office building on Tottenham Court Road under control at around noon on Friday and had been throwing out office equipment from the window.
Armed police then closed part of Tottenham Court Road, with emergency service personnel standing by. Negotiators were sent to the scene and established communications with the man.
A witness said four people were taken hostage inside the building. But police said they are still unable to confirm hostage situation since they have "only arrested the man ten minutes ago."
Another witness said Green had several canisters strapped to his waist, causing the police to worry that they were explosives.
The man reportedly had "a grudge against an individual in the building" or was upset that he could not get a HGV license.
"The police are still searching the building to make sure it is safe and proper for people to return" as standard procedure, Scotland Yard told Xinhua.